At Middle East Energy 2023, Rasso Bartenschlager, general manager of Al Masaood Power Division, was in conversation with Fyna Ashwath on the company's latest solutions for the power industry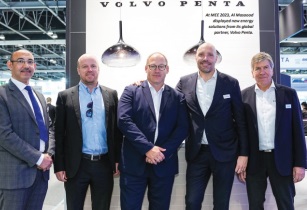 At MEE 2023, Al Masaood displayed new energy solutions from its global partner, Volvo Penta. (Image source: Al Masaood Power)
Technical Review Middle East (TRME): What are the latest solutionsthat Al Masaood showcased at MEE this year?
Rasso Bartenschlager (RB): It is part of our long­term commitment with Middle East Energy to introduce the industry's pioneering innovations. At this year's edition, Al Masaood showcased new energy solutions from its long­standing global partner, Volvo Penta, particularly the Battery Energy Storage System (BESS). These are energy and power optimised to meet operational and business requirements and can be scaled from a single unit to as many units as required for the OEM's BESS applications, up to hundreds of mega­watt hours (MWh).
Volvo Penta has additionally expanded its genset range and launched its most powerful engine to date, the D17, which delivers a power-­to-­weight ratio from the same footprint as the D16 – providing customers with an excellent alternative to other engines in its class. Also on show were Volvo Penta's latest addition to their industrial genset product line, the 200 kVA D8 Stage II engine.
Combined with low noise levels, this 8-­litre power generation engine strengthens the company's range of industrial genset engines, offering up to 8% reduction in fuel consumption per kWh, compared to the D7 model it replaces. The D8 is available in four power nodes – 200, 253, 303 and 326 kVA at 1,500 rpm (50 Hz) at prime power, to meet different application configurations.
The Middle East is at the centre of the global energy transition with a huge influx of investment for renewables. We, as a leading power solutions provider, understand our role in facilitating the transition to clean and renewable energy sources, with GCC countries switching to green and sustainable economies. Al Masaood strives to spearhead the future of solar panel solutions in the GCC. Energy storage is another major area of focus for the company.
The group also supports the enhancements on hybrid and battery systems to ensure power supply stability, lower carbon emissions and increase operating efficiencies. It is our company initiative to have substitute solutions in addition to the existing business. For instance, solar panels combined with batteries. Additionally, we are working on green solutions for EV charging, marine solutions to charge electric boats or substitute these power electric boats. We have modular versions now which can be for industrial use as well as hybrid solutions which are becoming more important now, especially for crisis or disaster management. So there are various possibilities to move away from fossil fuels.
TRME: What are the latest developments in the EV charging solutions that Al Masaood offers?
RB: For EV charging, we offer a complete solution, with a focus on the energy used by the charger. Al Masaood introduced the SHAMS+ (SHAMSPLUS), a full­fledged solar-powered charging solution for electric vehicles and hybrid marine vessel, the first such innovative solution to be fully manufactured in the UAE. With an extensive network of universal charging stations that can cater to all battery needs of the automotive and maritime sectors, we aim to offer our services even in remote, hard-­to-­reach or hard­-to-­connect areas.
We have solutions in which you can either substitute your grid connection with certain electricity available, and then add on to it. What is important is to have a fully fledged solution that can be actually used if there is no connection to the grid or there is limited electricity. We offer solutions to book and control charging sessions remotely and get accurate energy­usage insights to help optimise performance and reduce cost.
TRME: Please shed some light on Al Masood Power's efforts for improved sustainability.
RB: Our focus is on relentless efforts to address the demands of the industry and our commitment to sustainability. We are committed to promoting sustainable solutions and delivering optimum performance with lower emissions. Global efforts to reduce carbon emissions have been in full swing over recent years and the Al Masaood group continues to implement strategies aligning with the changes that come with this development. Further, solutions such as hydrogen and solar panels are a big part of Al Masaood's initiatives.
We need to find solutions that are feasible, affordable for the people and are good for the environment. By working with our partners, Al Masaood will leverage new growth potential and continually provide our customers with high-quality solutions and technologies.