Dubai-based AMEA Power has been awarded a contract to develop two photovoltaic (PV) solar plants in Morocco with a combined total capacity of 72MW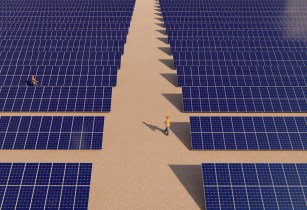 The Noor PV 2 programme involves the development of PV projects at six different locations, with the total capacity of the programme expected to reach 400MW. (Image source: Adobe Stock)
The contract to develop a 36MW PV independent power producer (IPP) project in Taroudant, in the Souss-Massa region, and at El-Hajeb, in the Fes-Meknes region, are part of the multi-site Noor PV 2 programme.
The Noor PV 2 programme involves the development of PV projects at six different locations, with the total capacity of the programme expected to reach 400MW.
The Noor 2 PV projects will be developed for private commercial entities, with the commercial and industrial companies buying power from the PV plants directly from the developer.
According to sources close to the programme, Morocco?s ONEE has the right to buy some residual power at a low price.
Morocco has emerged as one of the leading proponents of renewable energy in the Middle East and North Africa (Mena) over the past five years, having successfully launched and developed some of the largest solar schemes in the region.
The North African state?s progress with developing clean energy is part of its strategy to reduce its historical reliance on energy imports. In 2009, the government set a target for renewables to contribute to 42% of total power production by 2020.
Following the successful launch of its Noor PV programme, in 2017 Rabat set a target for 52% of its energy requirements to come from clean energy sources by 2030.
Masen awarded the contract for the country?s first major solar project, the 160MW Noor 1 CSP solar plant, to a consortium led by Saudi Arabia?s ACWA Power in 2012. ACWA Power was also successful in the tender for the Noor 2 and Noor 3 CSP projects in 2015.
AMEA Power, which currently produces about 2GW of clean energy through solar and wind energy plants in 15 countries, plans to raise its capacity to 5GW in the next three years. The developer is also building a 100MW PV solar plant in Tunisia.