Dubai Electricity and Water Authority (DEWA) and Korea Electric Power Corporation (KEPCO) have signed a contract to build a smart grid station (SGS) at DEWA?s green garage in Ruwayyah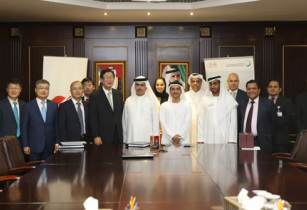 The current contract is part of an MoU that the two sides had signed in 2014. (Image source: DEWA)
This agreement is a part of an MoU signed in 2014 by both parties to exchange information on smart grids, smart cities, benchmarks and organising mutual workshops to raise awareness.
SGS is a modular concept that connects smart grids to smart buildings. DEWA is exploring the concept which connects smart buildings to each other, allowing them to share information, which will help improve energy and water efficiency and make optimal use of renewable energy within a smart city.
The project will include concepts from the fields of wind energy, battery storage and building management. It supports DEWA?s Smart Initiatives that aims to make Dubai the smartest city in the world in three years. A part of these smart initiatives is the Shams Dubai initiative, which encourages building owners to install photovoltaic panels on rooftops to produce solar energy and connect it to DEWA?s grid.
Saeed Mohammed Al Tayer, MD of DEWA, said, ?We are delighted to work with the Korea Electric Power Corporation. This contract represents an achievement for both sides and allows both parties to take advantage of the available skills and best practices for smart cities and smart grids around the world.? He also invited KEPCO to participate in more projects, including research and development, Internet of Things (IoT), big data and drones.