First Solar, Inc. has signed an agreement to supply its high performance photovoltaic (PV) modules to power the 200MW AC second phase of the Mohammed bin Rashid Al Maktoum Solar Park in Dubai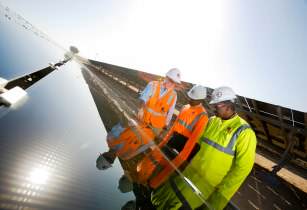 Power from the solar park will be sold at 20 per cent lower prices than before. (Image source: First Solar)
The solar plant will be the largest facility of its kind in the Middle East when completed in early 2017. It will produce enough energy to power 30,000 average homes in the UAE and will displace more than 469,650 metric tonnes (mt) of carbon dioxide per year. The project will be powered by more than 2.36mn First Solar modules, compared to the 152,880 that were installed in the 13MW AC first phase of the solar park. The plant will be built over an area of almost 4.5mn sqm, roughly equivalent to 100 soccer fields.
Earlier this year, a consortium led by ACWA Power, a leading water and power developer, owner and operator based in Saudi Arabia, and Spanish engineering and construction company TSK, was selected by the Dubai Electricity and Water Authority (DEWA) to develop, construct, own and operate the independent power project. According to the consortium, the project?s tariff of less than US$0.06 per kWh establishes a new global benchmark, reducing the cost of solar electricity by over 20 per cent.
Paddy Padmanathan, CEO of ACWA Power, said, ?The technology we plan to implement has a proven advantage over conventional solar panels, delivering more annual energy for the same nameplate watts under the specific project conditions of the DEWA project.?
First Solar?s advanced PV modules have set the industry benchmark with over 10GW installed worldwide and have been independently tested to pass accelerated life and stress tests beyond industry standards. With a superior temperature coefficient and superior spectral response, they have been independently certified for reliable performance in high temperature, high humidity, extreme desert and coastal environments.
?By combining our world-class engineering and construction capabilities with First Solar?s high performance modules, this project will help define how utility scale PV plants are developed throughout the region and beyond,? said Alfonso Targhetta, procurement managing director and board member of TSK.
Ahmed S Nada, V-P for the Middle East at First Solar hailed the project?s impact on the global energy transition since it drives down the cost of solar electricity. ?First Solar will have earned the position of being the leading PV solutions provider in the Middle East, with a projected installed capacity of at least 270MW across the region by 2017,? he added.
First Solar modules will also be installed at the 52.5MW AC Shams Ma?an solar PV plant, currently under construction in Jordan and scheduled for completion in the second half of 2016.