Logistics provider GAC Bahrain completed the installation of more than 550 solar panels on the rooftop of its warehouse in Bahrain Investment Wharf in Al Hidd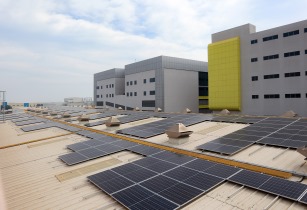 The project will cut GAC Bahrian's CO2 emissions by more than 485 tonnes. (Image source: GAC Bahrain)
Up to 487,000 kWh of clean, renewable energy could be produced yearly by the solar array, GAC said. This would also cut GAC Bahrian's CO2 emissions by more than 485 tonnes, and in the first year, it may save around 195 tonnes of standard coal, which is equal to saving about 26,298 trees.
Al Mannai Projects, a provider of renewable energy solutions, completed the five-month project in strict accordance with all applicable regional laws and safety guidelines.
Johan Fulke, managing director of GAC Bahrain, said, "We are fully committed to minimising our impact on the environment and taking further steps towards sustainability."
"The solar panel installation is a significant milestone in our sustainability journey and demonstrates our dedication to reducing our carbon footprint and adopting renewable energy sources."
Talal Al Mannai, CEO of Al Mannai Projects, added, "We are delighted to have completed the installation of 550 Wp high-efficiency GCL solar PV modules, high-quality Al Mannai aluminium anodised solar mounting structure and balance of system (BOS) equipment for GAC Bahrain. The project was finished on schedule and met all international and the Bahraini Electricity and Water Authority (EWA) standards."
The solar panel project is the latest part of GAC Bahrain's commitment to environmental responsibility, which is aligned with the wider GAC Group's sustainability strategy that includes a commitment to UN Sustainable Development Goals.
Bahrain has set a target of generating 5% of its electricity from renewable sources by 2025. Its Economic Vision 2030 aims to reduce carbon emissions by 30% through local decarbonisation projects and doubling the development of regional renewable infrastructure.