Companies must prepare themselves for the ?massive changes? that the introduction of the VAT is bringing to the GCC region, warns Michael Vaughan, director of tax at Grant Thornton UAE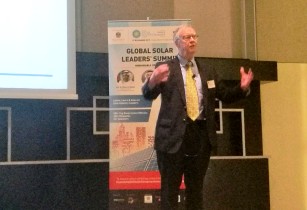 Michael Vaughan is the director of tax at Grant Thornton UAE. (Image source: Big 5 Solar)
Speaking at the ?How will VAT impact the Solar Industry? seminar organised by the Middle East Solar Industry Association (MESIA) and The Big 5 Solar, the VAT expert stressed the necessity for enterprises to get ready for the forthcoming transition.
VAT is currently present in 150 countries and contributes to 20 per cent of worldwide tax revenues. Earlier this year, the GCC members ratified the VAT framework agreement, and a UAE law is expected to be enacted by the end of August. Starting from 1 January 2018, a five per cent VAT rate will be applied to most businesses; the mandatory registration threshold will be US$102,093, while a voluntary registration option will be available for companies making supplies of 50 per cent or more of this figure.
Although the UAE law on the VAT system is yet to be introduced, Vaughan urged companies to stop immediately from issuing contracts without a VAT clause and to ?start training their staff?. ?There?s a huge transformation underway in the region, and VAT is part of this change,? commented Ahmed Nada, president of MESIA, stressing that ?all of us need to understand how this will affect the industry?.
Over 100 solar energy professionals attended the seminar at the Nassima Royal Hotel in Dubai on August 23. Confirming the solar industry?s expansion in the UAE, Hussein Abdel Khalek, event manager of The Big 5, said, ?Demand for solar energy has been increasing day after day, and more people are now looking to source their energy from solar power.
?We believe that this is the best time to start our dedicated solar show, which will take place beside the Big 5, the largest construction industry event in the region, from 26-29 November at the Dubai World Trade Centre,? stated Khalek announcing The Big 5 Solar 2017.
Set to become the premier platform for solar industry professionals to network, learn and do business in the Middle East, The Big 5 Solar will bring all the top government and industry pioneers to meet with buyers and suppliers across the solar industry.
Alongside the show, the third edition of the Global Solar Leaders? Summit (GSLS), under the patronage of the UAE Ministry of Energy, will host panel discussion and live debates with speakers including Dr Matar Al Neyadi, Undersecretary of the UAE Ministry of Energy, and Dr Rashid Alleem, chairman of the Sharjah Electricity and Water Authority.
An additional seminar on the impact of VAT on the solar industry will also take place at The Big 5 Solar 2017, where Vaughan will present the new UAE law on VAT and its implications for the local solar community.