Technical paper co-authored with Petroleum Development Oman presented at SolarPACES details 55 per cent cost reductions compared to pilot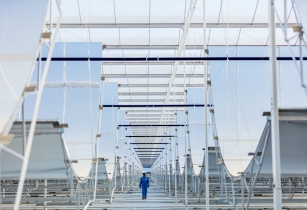 GlassPoint's solar EOR project with Petroleum Development Oman (PDO) will generate low-cost steam to boost oil production. (Image source: Business Wire)
GlassPoint Solar, supplier of solar energy to the oil and gas industry recently published new cost-saving achievements in a technical paper presented at SolarPACES 2017. The paper, co-authored with GlassPoint?s partner and customer Petroleum Development Oman (PDO), details how the companies have to date reduced costs by 55 per cent as the technology scales up from a seven-megawatt pilot to Miraah, a one-gigawatt solar thermal project under construction on an oilfield in Oman. These savings resulted from the use of improved designs, enhanced tooling and increased workforce productivity in deploying its enclosed trough technology.
?GlassPoint?s pilot project for PDO, which produces steam for oil production, has been operating successfully for more than four years. During this time, we worked closely with our partners at PDO to enhance the technology for oilfield deployment and improve overall cost efficiency as we scale by a factor of 100,? said Ben Bierman, GlassPoint COO. ?The results presented at SolarPACES reflect our ongoing commitment to innovation and cost reduction to deliver the most energy per dollar spent.?
GlassPoint?s enclosed trough technology was designed to produce steam used in thermal enhanced oil recovery (EOR), a process typically fueled by burning natural gas. This unique solar thermal design takes parabolic trough collectors, or large curved mirrors, and puts them inside an agricultural greenhouse. The mirrors concentrate sunlight on a pipe filled with oilfield-grade water and boil the water directly into steam.
?The greenhouse serves as protection, foundation, and structure in one, enabling major cost and performance advantages compared to exposed solar designs. Most importantly, the zero-wind environment lets us reduce the amount of raw materials used throughout the entire system. Using less material reduces the weight and costs of the solar collectors, and makes the plant easier to install and easier to maintain,? explained Pete von Behrens, GlassPoint?s CTO.
The paper, Deploying Enclosed Trough for Thermal EOR at Commercial Scale, details many of the ways GlassPoint has been able to simplify its solar collectors, which are suspended from thin wires from the greenhouse roof.
GlassPoint optimised the equipment and mirror manufacturing process, improving yield in the factory and mirror performance in the field. The mirror material was reduced by 18 per cent to a little over 1 kg/m2, reducing material costs. They also deployed a new, lighter and stiffer mirror support structure. The new aluminum space frame design, assembled onsite, is five times stiffer than the previous design and cut aluminum usage by 30 per cent. GlassPoint is also deploying a new drive system, which is used to rotate the mirrors to track the sun, that uses one-third fewer motors, and further reduces installation and maintenance costs.
GlassPoint also improved construction productivity, overcoming the challenges of operating in remote desert conditions. In addition to developing special tooling and equipment to streamline installation, GlassPoint also focused on careful training of its local contractors, who had no experience with solar projects. As a result, Miraah has already achieved 60 per cent reduction in labour hours and has a clear path to further reductions as construction progresses.