Abu Dhabi Future Energy Company (Masdar) and leading environmental management company Bee?ah have completed the financing of the UAE?s first US$220mn waste-to-energy (WTE) plant in Sharjah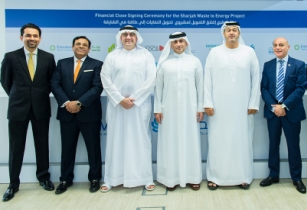 During the signing ceremony. (Image source: Masdar)
The lenders to the project are Abu Dhabi Fund for Development (ADFD), Abu Dhabi Commercial Bank (ADCB), Siemens Financial Services, Sumitomo Mitsui Banking Corporation (SMBC) and Standard Chartered Bank (SCB).
The Sharjah Waste-to-Energy Facility is being managed by Emirates Waste to Energy Company, a joint venture formed by Masdar and Bee?ah last year, and is expected to be on stream by 2020.
Located at Bee?ah?s Waste Management Centre in Sharjah, the new plant is set to process more than 37.5 tonnes of municipal solid waste (MSW) per hour to generate electricity sustainably. Once operational, it will contribute significantly to reaching the UAE?s target of diverting 75 per cent of its solid waste from landfills by 2021, as well as Sharjah?s zero-waste-to-landfill goal.
The Sharjah Waste-to-Energy Facility will have a capacity of around 30MW, enough power to supply around 28,000 UAE homes. Heat from the processing of waste will be used to power an electricity turbine connected to the grid. Flue gases will be treated before being released into the atmosphere.
The plant has been designed to meet the strictest environmental standards, including the European Union?s Best Available Techniques, widely recognised as the global standard on industrial environmental performance.
Khaled Al Huraimel, group CEO of Bee?ah, said, ?Through this project, Bee?ah and Masdar have exerted their collective energies towards diversifying the renewable energy sector, and identified a sustainable energy source with a long-term competitive advantage. At this stage, the support of these renowned financial institutions demonstrates international recognition of the project and its feasibility in the context of the framework for sustainable economic growth.?