Masdar marked the completion of its first green bond issuance for US$750mn ten-year senior unsecured notes at London Stock Exchange (LSE)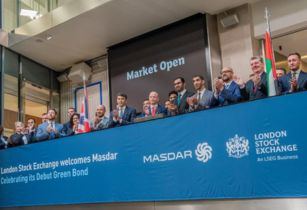 So far, Masdar has developed over 20GW of renewables capacity across more than 40 countries. (Image source: Masdar)
The bond offering began on 19 July this year, which was more than five times oversubscribed from regional and international investors. So far, Masdar has developed over 20GW of renewables capacity across more than 40 countries, has invested more than US$30bn, and is targeting a 100GW portfolio by 2030.
This bond is the first phase in a programme to generate up to $3bn to satisfy Masdar's equity finance commitments on new renewable energy projects in the UAE and elsewhere, as it tries to expand its worldwide portfolio to 100GW of capacity by 2030. Masdar also intends to launch its green bond offering on the Abu Dhabi Securities Exchange (ADX) later this year, the Gulf region's second largest market.
Proceeds from all bond offerings under the programme will be directed towards the greenest projects in the renewables sector, including solar, wind, renewable power transmission and distribution infrastructure, and battery storage assets, with strict ESG criteria limiting project eligibility.
The market opening was attended by HE Dr Sultan Al Jaber, UAE minister of industry and advanced technology, COP28 president-designate and chairman of Masdar, HE Dr Thani bin Ahmed Al Zeyoudi, Minister of State for Foreign Trade, Ambassador HE Mansoor Abulhoul, UAE Ambassador to the UK, and Masdar CEO, Mohamed Jameel Al Ramahi.
Al Jaber said, "This is a defining moment for Masdar and climate finance and we are delighted to stand on the world stage at this historic market opening ceremony. The demand for green bonds is extremely high and will enable investment in renewable energy projects, many of which will be in developing economies and climate-vulnerable countries. But there is more to do if we are to unlock finance for the energy transition to support the tripling of global renewable energy capacity by 2030. The successful issuance of Masdar green bonds will support this aim, by helping to provide funding towards renewable energy projects where they are needed most."
Al Ramahi said, "Today we're proud to celebrate the success of Masdar's debut green bond issuance, a testament to the pioneering spirit of all the people who have worked incredibly hard over the last 17 years to grow Masdar into one of the world's leading renewable energy companies. It follows the publication of our innovative Green Bonds Framework, published in March 2023, which received the highest Sustainability Quality Score of 'SQS1' from Moody's Investors Service, and is part of a broader program to fund our ambitious growth plans."
Julia Hoggett, CEO, LSE plc, and head of equities, capital markets, LSEG, said, "We congratulate Masdar on the successful listing of its debut green bond on the London Stock Exchange, the proceeds of which will support renewable energy projects. We are proud that our markets are helping to accelerate the low-carbon transition by providing access to capital for companies, funds and governments worldwide."