Masdar has signed an MoU Africa50 to identify, fast-track and scale clean energy projects across the continent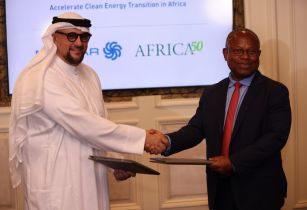 A total of US$10bn has been committed to renewable energy financing by Masdar towards African projects. (Image source: Masdar)
The agreement between Masdar and the pan-African infrastructure investment platform aims to work to bridge the infrastructure funding gap and mobilise public and private finance.
The agreement, which was signed on the sidelines of the Africa Climate Summit, the first of four international climate summits held prior to COP28, by Mohamed Jameel Al Ramahi, CEO of Masdar, and Alain Ebobissé, CEO of Africa50, will see both parties work cooperatively to catalyse the sustainable development of the clean energy sector in Africa. Africa50 and Masdar will also explore opportunities to collaborate on the implementation of the Alliance for Green Infrastructure in Africa (AGIA) which was launched at COP27 by the African Union Commission, the African Development Bank and Africa50.
HE Dr. Sultan Al Jaber, chairman of Masdar and designate for the presidency of COP28, said during the Africa Climate Summit that Masdar has contributed US$2bn of equity as part of the UAE funding effort. The programme brings together public, private, and development resources from organisations in the UAE, particularly from Masdar, AMEA Power, Etihad Credit Insurance, and Abu Dhabi Fund for Development (ADFD). Strategic partner Africa50 is anticipated to join this project as well.
A total of US$10bn has been committed to renewable energy financing by Masdar, of which US$2bn will come from equity and the remaining US$8bn will come through project finance. By 2030, this investment hopes to provide 10 GW of sustainable energy capacity to Africa.
The UAE investment initiative is a part of Etihad 7, a development platform led by the Ministry of Foreign Affairs (MoFA) and introduced by the UAE at Abu Dhabi Sustainability Week in 2022. Etihad 7, which was announced in 2022, seeks to deliver clean power to 100 million people on the African continent by 2035.
Al Jaber, who is also the UAE Minister of Industry & Advanced Technology, said, "We welcome this important partnership with Africa50 which brings a key stakeholder to the table for an inclusive, equitable and just energy transition. We look forward to working with Africa for Africa. The world must continue to close the gap on climate finance for clean energy investment in the global south which is disproportionately affected by climate change. We need the public and private sectors to work together to deliver clean energy access across Africa – a key mission and objective of Africa50. This can be accelerated in countries with robust regulatory frameworks, clear transition strategies and a real commitment to developing grid structure."
Mohamed Jameel Al Ramahi, CEO of Masdar said, "As the largest renewable energy company in Africa, through our joint venture with Infinity Power, it is fitting that Masdar, with Africa50, should take this bold step forward which will unlock much needed climate finance for the energy transition. It is a key strategic market for Masdar and we are proud of our long-term partnerships and projects in Africa. Our portfolio today includes Senegal's first utility-scale wind farm, under Masdar's Infinity Power Holding platform (IPH), Mauritania's first and largest solar photovoltaic project, and the development of Africa's largest wind farm in Egypt with IPH and other partners. With Africa50, Masdar looks forward to unlocking the enormous clean energy potential across the continent,"
Alain Ebobissé, CEO of Africa50 said, "Partnerships are key to our goal of scaling up and accelerating the delivery of bankable and sustainable infrastructure across Africa. We are pleased to join forces with Masdar through this signing. We believe that this step will become one of many, on a journey to drive transformative projects that support Africa's path to net-zero and help builder cleaner economies for future generations."