Hosting a session at Middle East Energy 2021 discussing the adoption of green hydrogen, Andre Roscoe, editor of Energy and Utilities at Informa Markets, noted that green hydrogen is generating a lot of excitement within the energy industry with governments, utilities, international partners and more, seriously considering developing green hydrogen projects in the future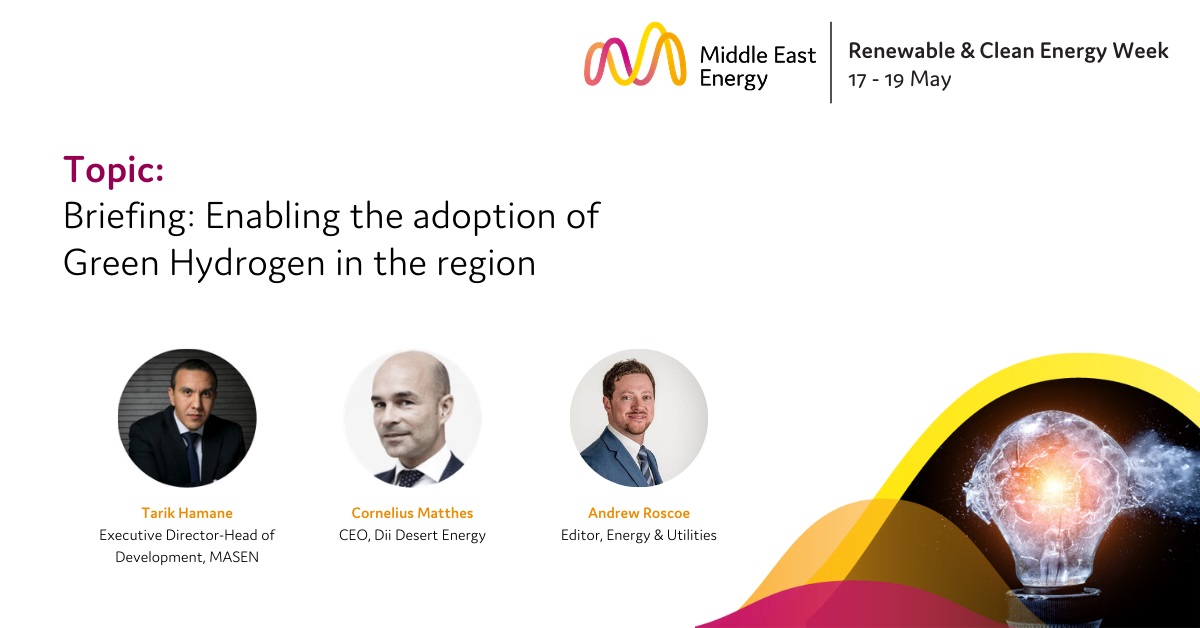 The panellists of the Middle East Energy 2021 session who discussed the adoption of green hydrogen. (Image source: Middle East Energy)
Joining Roscoe and expanding on this perception, Cornelius Matthes, CEO of Dii Desert Energy, an independent, non-profit, international public-private sector network operating from Dubai, explained that interest in green hydrogen had exploded over the last year due to a combination of factors. First, in a story that is well known, the challenge of climate change has really been taken up in a big way and there is now serious action towards accelerating the transition to clean energy and reducing humanity?s carbon footprint. Additionally, renewable energy is becoming increasingly low cost which is making the production of green hydrogen a much more viable option.
Continuing, Matthes commented, ?Green hydrogen is now considered a necessity. Industries such as steel and fertilisers cannot electrify easily, so when it comes to massively reducing C02 emissions, green molecules are highly complementary to green electrons (which are obviously a prerequisite). Steel is a low hanging fruit which currently represents 7% of global CO2 emissions. Most steel companies have ambitious plans to produce climate neutral steel in the future. One avenue to do this is direct reduction, to substitute things like coal with hydrogen. In a sense, it is a once in a lifetime opportunity. This is unprecedented and there is a huge focus now.?
Tariq Hamane, head of development department at Morocco Agency for Sustainable Energy (MASEN), a public-private venture to lead the country?s drive for renewable energy, echoed these points and added that for Morocco, a country well on its way to meeting its ambitious plans of having at least 50% capacity power from renewables by 2030, the chemical and fertiliser industries were the biggest opportunity relating to green hydrogen. The country is a huge importer of ammonia (two million tons a year) which could be subsidised by green ammonia produced by green hydrogen. Additionally, as the country has such huge potential for renewable power with solar and wind, it could be a major player in the green hydrogen field, capable of producing and transporting it to Europe.
While, at this moment, green hydrogen is still very much in its infancy in regards to the maturity of projects, the panellists expected that this would begin to pick up very rapidly in the near future. Matthes envisioned a lot of innovations in electrolysis, a key component in the production of green hydrogen, which will bring the cost down for more projects. Additionally, advancements in technology relating to renewable energy will make this energy source even cheaper, further facilitating a growth in green hydrogen uptake. Finally, the CEO noted that it was encouraging to see financial decisions regarding green hydrogen were not just being taken up or encouraged by national authorities, but private companies as well.
The panellists concluded the session by noting that collaboration and partnerships would be absolutely essential to ensure that this enthusiasm for green hydrogen is maintained and actually converted into competitive projects. Sustainable partnerships between the private sector and national governments, with clear regulatory framework, would create the right conditions for the world to truly take advantage of the unique benefits green hydrogen presents, an opportunity which should not be missed.