Phoenix Solar has started work on building a 1.8MWp plant in Riyadh as part of a deal with Saudi Arabian energy group Saudi Aramco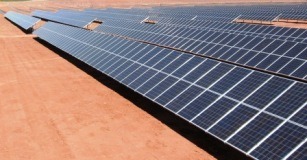 The plant will cover some 2.6 hectares of desert land and feed more than 2,900MW hours a year into KAPSARC?s medium voltage grid. (Image source: Phoenix Solar)
Aramco has plans to expand its 3.5MWp (megawatt peak) King Abdullah Petroleum Studies and Research Center (KAPSARC) project to 5.3MWp, with Germany?s Phoenix Solar, which will design and construct the new photovoltaic plant.
In January, Phoenix Solar had completed the installation of the 3.5MW park, located on the grounds of the KAPSARC in Riyadh. It will be the fifth project for the German firm in Saudi Arabia and the second for Saudi Aramco.
The group?s Phoenix Solar Oman and Phoenix Solar Singapore divisions, along with local partner Hi-Technology & Contracting Company, will oversee the design, construction and commissioning of the new 1.8MWp extension.
Upon completion, the plant will cover some 2.6 hectares of desert land and feed more than 2,900MW hours a year directly into KAPSARC?s medium voltage grid.
Phoenix Solar vice president of projects and head of Middle East Klaus Friedl said that the group?s subsidiaries in the US and Singapore have been growing, and added that Phoenix Solar in Oman has also been increasing activities in the Gulf Cooperation Council (GCC) region, mainly in Saudi Arabia.
Phoenix Solar CEO Bernd K?hler said, ?The Middle East is a fast growing region, with potentially high demand for solar energy in the future.
?With this new order in hand, we will strengthen the Oman office, which will operate with the support of Phoenix Solar Singapore. Both subsidiaries will combine experience and know-how to apply the best solutions to accommodate the harsh desert climate conditions of this region and to continue building high performance solar power plants.?