NEXSYS-ONE exhibited at the World Future Energy Summit for the first time this year. Jim Prosser, CEO and founder of NEXSYS-ONE, discusses solar industry trends, the company's activities and its participation at the World Future Energy Summit earlier this month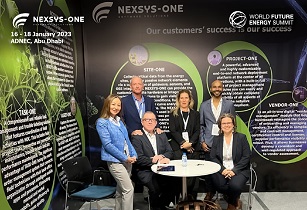 The NEXSYS-ONE team at the World Future Energy Summit. (Image source: NEXSYS-ONE)
"This is the first time NEXSYS-ONE attended the show to expand our alternative energy software solutions in the Middle East and other countries represented at the show," explains Prosser. "The World Future Energy Summit is an industry-recognised event and with this, NEXSYS-ONE was looking to showcase our software solutions and to understand and listen to the challenges companies are facing to deploy and operate alternative energy networks.
"NEXSYS-ONE offers a rapid deployment out-of-the box software solutions for the alternative energy sector to build and maintain infrastructure. Our products include PROJECT-ONE, FIBER-ONE, VENDOR-ONE, TASK-ONE, ASSET-ONE, ACCESS-ONE, and SITE-ONE. The self-administrative platform, ADMIN-ONE, empowers our customers to quickly deploy the solution that's customisable to meet their process and operational requirements."
Discussing emerging trends within the solar energy industry, Prosser comments, "The Solar industry has seen tremendous innovations by integrating IoT into its products. It's currently being used to forecast energy demand like a weather report and manage energy distribution so homeowners will always have power. With SITE-ONE, we introduce machine learning algorithms to predict a wide range of data projections.
"Unlike smartphones and laptops, which seem to cost more with each passing year, the cost of solar technology is on a steady downward trend. Utilising the supply chain management of NEXSYS-ONE, we can manage the cost comparisons, product quality and demand planning. This then in turn is integrated within the procurement modules of NEXSYS-ONE to process the network build whilst reducing costs.
"In the early days of renewable energy systems, technology was unreliable and ineffective on its best day. This, coupled with the massive upfront cost to install a solar power system, made it not worth looking at for many. However, every type of solar power system, from grid-tied to an off-grid solar system, has seen massive improvements in durability and effectiveness. With TASK-ONE, we support the durability and effectiveness of solar panels with our preventive and corrective maintenance software solutions."
Discussing the challenges and opportunities in the region, Prosser says, "Feasibility studies and analytics, permitting, lease management, regulatory requirements, documentation handling are all ongoing challenges when deploying solar energy networks. With over 20 years of experience in meeting such challenges as a service provider and operator ourselves, we build NEXSYS-ONE to streamline such processes.
"At the heart of our company is the aspiration to combine strong talent with grit, to creatively build value for our customers and the planet.
"Utilising the suite of advanced software modules of NEXSYS-ONE, we offer the alternative energy industry solutions to build and maintain their infrastructure. While fossil fuels will run out in 40-60 years, the sun will always shine, the wind will always blow, and the Earth will always have geothermal energy. NEXSYS-ONE is committed to supporting the rapid deployment of alternative energy solutions.
"Within the alternative energy market, we're expanding our growth within Europe from our offices in the UK and our presence in Finland. In Europe, we are seeing an extensive drive towards wind farms whilst in the Middle East from our Dubai office, the focus is mainly around Solar for obvious weather condition reasons. In North America, some of our major clients who use NEXSYS-ONE to support their ongoing nationwide telecoms business are moving into the wind and solar sectors via their power divisions. In Asia, NEXSYS-ONE is opening its new R&D center in KL Malaysia with a focus towards serving the regions booming energy sectors.
"The NEXSYS-ONE modules are predominantly built and tailored to support this transformation by offering our one stop software solutions to build and maintain wind and solar energy infrastructure. NEXSYS-ONE empowers our customers to efficiently deploy their network infrastructure with techniques and processes built within our platform by industry experts since 2001. Our platform includes project planning, technical site surveys, procurement, budgeting, IoT sensor analytics to measure outputs, alarm handling and system performance, asset management, warehouse management, vendor management, work order management, project deployment tracking and reporting, quality and acceptance, custom reports, forms, documentation control, contract management, billing, personal dashboards, self-administration, GIS applications, mobility, task management, resource management, spares handling, and much more."
With regional governments firmly set on various Net Zero strategies and goals, it is a priority for NEXSYS-ONE to support such goals.
"Our mission for the alternative energy sector is to connect the previously unconnected under a single unified platform to drive pioneering service innovation in the management of deployments, operations, and maintenance processes," Prosser concludes.