Veolia Near & Middle East, the global leader in optimised resource management, BEEAH Group, the Middle East's sustainability pioneer, and Masdar, the global leader in renewable energy solutions, have formed a joint venture to operate and maintain the Sharjah Waste to Energy Plant – the region's first of its kind at commercial-scale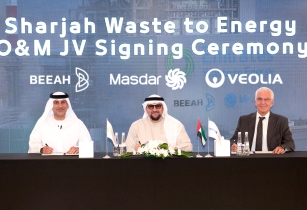 Veolia joins BEEAH Group and Masdar to operate and maintain region's first waste to energy plant. (Image source: Veoila)
The facility, owned by BEEAH Group and Masdar through their joint venture, Emirates Waste to Energy, can process 300,000 tonnes of municipal waste every year while producing 30MW of low carbon energy, enough to power up to 28,000 homes and offset up to 450,000 tonnes of CO2 emissions per year. Sharjah currently has a 76% landfill waste diversion rate. With the plant now operational, it will enable 100% landfill waste diversion, making Sharjah the first zero waste to landfill city in the Middle East. As a full-circle, zero-waste solution, the facility, which recently won the NES Fircroft Power Project of the Year at the MEED Project Awards 2022, is shaping a clean energy future in Sharjah while contributing to the UAE's sustainability agenda.
Pascal Grante, CEO, Veolia Near & Middle East, said, "We are immensely proud to be working with BEEAH and Masdar on the region's first commercial-scale waste to energy plant in Sharjah. As part of our efforts to promote ecological transformation, Veolia is dedicated to diverting domestic waste away from landfill and to supporting the UAE's push for green energy. This project helps achieve both goals, while being aligned with the UAE's ambitious environmental vision."
Khaled Al Huraimel, group CEO, BEEAH Group, said, "Our venture with Veolia and our partners Masdar is another exciting development in our mission to shape a zero waste to landfill, net-zero emissions future in Sharjah and the UAE. Over the next 25 years, we will continue to build on our integrated waste management and zero waste to landfill ecosystem through the Sharjah Waste to Energy Plant. Our goal is to continue to demonstrate how this facility can be replicated across the UAE, the region, and beyond, as we accelerate towards the global sustainability agenda."
Mohamed Jameel Al Ramahi, CEO, Masdar said, "Masdar is proud to welcome Veolia into the fold to help operate and maintain our landmark Sharjah Waste to Energy Project with BEEAH. Combining Veolia's proven track record in ecological solutions with Masdar's deep expertise in clean energy and BEEAH's experience in waste management, we will work together to ensure the smooth operation and maintenance of the region's first commercial-scale waste to energy facility, supporting Sharjah and the UAE in achieving their zero-waste and net-zero ambitions."
The Sharjah Waste to Energy Plant complements BEEAH Group's efforts at its integrated waste management complex, managed and operated by BEEAH Recycling, the Group's waste processing and material recovery business. With ten specialised facilities, the waste management complex recovers a majority of the recyclable material from the waste it processes. The remaining waste will then be sent to the plant, where it will be thermally treated. The heat produced from the process will be applied to a boiler, which will produce steam and drive a turbine to produce electricity.
The joint venture between Veolia Near & Middle East, Masdar, and BEEAH Group will operate and maintain the facility for a period of 25 years. The joint venture will also draw from its collective experience and insights to help operate and maintain waste to energy projects across the UAE and the region. Veolia will utilise its vast expertise as a leader in the energy recovery from waste industry to ensure that the facility is run in accordance with international best practices. The company has been active in the field of waste to energy since the 1960s and manages more than 90 waste to energy facilities in the world to treat waste while creating renewable energy.