AkzoNobel has opened its first regional application training centre in Dubai, which is set to further strengthen customer service standards and promote localised innovation of paint products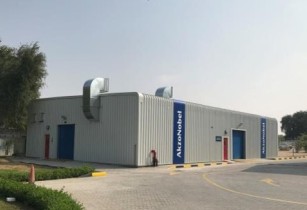 Located in Al Quoz, the centre houses the most cutting-edge industry equipment for businesses in wet paint and protective coatings where the manual application is applicable. (Image source: AkzoNobel)
The state-of-the-art facility will offer advanced training programs for AkzoNobel customers, enabling them to build capacity and deepen their knowledge of paints and coatings. It will focus particularly on speciality coatings used in various market segments from linings to passive fire protection.
The new centre highlights the company?s commitment to deepen its relationship with customers in the region and provide expert training on the most efficient use of our paint systems.
As the first training centre serving multiple paint and coatings businesses, the facility will serve as both a hub for stronger customer collaboration and a centre of expertise for colour and application.
Located in Al Quoz, the centre houses the most cutting-edge industry equipment for businesses in wet paint and protective coatings where the manual application is applicable. It will particularly appeal to oil and gas industry stakeholders, who can gain first-hand knowledge about the latest coatings processes and systems. With the region witnessing positive growth in the oil and gas downstream sectors, the facility will build industry standards and support its customers in overcoming challenges in the workplace relating to the choice and application of paints and coatings.
AkzoNobel offers several SSPC-accredited training courses delivered by trained, experienced and qualified trainers. ?Our trainers have a minimum of five years? experience in the protective coating industry as coating supervisors, managers or inspectors. SSPC training provides a comprehensive package of training modules for applicators that ensures professionalism and gives an insight into methods of surface treatment and the correct application of protective coatings. Some of the training courses offered are Train-the-painter, Train-the-supervisor and Train-the-inspector,? said the company.
There are several benefits that can be gained by upskilling staff such as cost savings due to reduced rework and wastage, improved quality of coatings application and increased customer satisfaction.
The training facility was officially opened earlier this year and is fully operational, the new AkzoNobel application training centre further supports the company?s focus on research and development, with more than US$412.71mn invested in R&D globally last year. The company has more than 3,000 scientists around the world, who drive innovation through an expanding portfolio of sustainable products.
For more information, please visit www.international-pc.com