With the objective of supporting and empowering youth as future business leaders and budding entrepreneurs, Sohar International has pledged support to INJAZ Oman under its CSR programme, Sohar Al Atta?a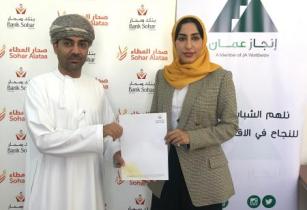 The support will fund the participation of 200 students in workshops conducted by INJAZ Oman. (Image source: Sohar International)
The support is expected to fund the participation of 200 students in workshops conducted by INJAZ Oman with the aim to introduce them to the concept of entrepreneurship at a very early age.
During a visit early in December to Sohar International?s head office in Muscat, Khawla Al Harthy, CEO of INJAZ Oman, received the support cheque from Mazin Mahmood Al Raisi, senior AGM and head of marketing and customer experience following discussions on potential avenues of collaboration.
Recognising the importance of catering to this segment of society in CSR programmes, Khalil Al Hedaifi, chief retail banking officer at Sohar International, said, ?Over the past decade, we have seen young entrepreneurs launching their own business projects and achieving great results, hence the globally fast growing business sector known as ?kidpreneurs?. We at Sohar International strongly believe in investing in the segment as their talent is nothing short of a vital economic asset that will go forth to lead in various aspects of Oman?s emerging economy.?
?Supporting INJAZ?s programmes helps us ensure that youth build their confidence to manage future challenges. This is very critical as competence and competitiveness are under the spotlight like never before, forming key factors that play a major role in the success and the employability of youth at a later stage. We are pleased to help facilitate this workshop for so many young people and applaud INJAZ Oman?s achievements over the last decade,? he added.
The one-day programme will observe a bilingual delivery of challenging business activities to 200 high achieving students as they work to deliver innovative solutions in response to a range of problems. ?I-Camp? will give youth the opportunity to engage in exciting activities with mentors from the corporate sector expanding their entrepreneurial horizons, and direct students? thinking towards their future in the corporate world with a memorable methodology.
Khawla Al Harthy, CEO of INJAZ Oman, commented, ?This kind of workshops and initiatives are essential when we consider Oman?s incredibly youthful demographic. Research demonstrates that more than 50 per cent of young Omanis is open to the idea of exploring enterprise before creating their own business.?
?INJAZ Oman has consequently taken the lead in tailoring courses that cover a variety of topics with private sector leaders contributing to the delivery of initiatives and programmes that invest in business leadership, risk, communication, people-centric challenges, sales, marketing and an understanding of common obstacles faced in different types of business processes,? Harthy stressed.