Dubai Electricity and Water Authority (DEWA) and Huawei have launched a laboratory to develop and implement AI digital services for the Middle East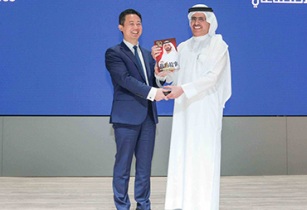 The strategic summit aimed to increase cooperation between DEWA and Huawei. (Image source: DEWA)
The announcement in regard to the lab was made in a strategic summit between DEWA and Huawei. The summit witnessed the commencement of a training and development programme for DEWA staff in different areas of the fourth industrial revolution and disruptive technologies.
During the summit, the two organisations discussed ways to increase cooperation between them on investments and exchanging global solutions, experiences and practices in innovation.
Saeed Mohammed Al Tayer, MD and CEO of DEWA, and Charles Yang, president of Middle East region at Huawei Technologies attended the summit, which focused on areas, such as disruptive technologies, smart grids, digital transformation, automation, cloud platforms, and artificial intelligence (AI).
Al Tayer said, ?This summit with Huawei confirms our serious and ongoing work to speed up a new digital future for Dubai. This is done by making use of Huawei?s skills in major areas that support the Dubai 10x initiative.?
Yang commented, ?Huawei is leading 5G, AI and cloud computing technologies and we have the capability to help DEWA to build an AI-based digital cloud platform.?
Marwan Bin Haidar, executive vice-president of innovation and the future at DEWA, they seek to invest in and apply AI techniques and tools to make Dubai a city of the future.
DEWA?s executive vice-presidents and vice-presidents took part in the summit at the DEWA Campus for occupational and academic development in Dubai. Huawei delegation included Jerry Ji, president of global energy sector; Edwin Diender, chief digital transformation officer at Huawei?s government and utility sector; and Chen Cailin, senior specialist of Huawei utility solution.