During its participation at the Ministry of Industry and Advanced Technology's (MoIAT) Make it in the Emirates Forum in the UAE, Dubai Industrial City, a member of TECOM Group PJSC and one of the region's largest industrial and logistics hubs, has attracted almost US$272mn in investments from local and global manufacturing companies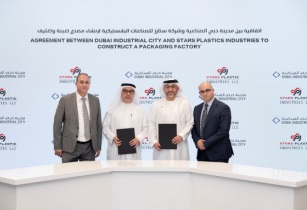 Universal rubber belt manufacturing and stars plastics industries confirm investments. (Image source: Dubai Industrial City)
Investments by local rubber products producer Universal Rubber Belt Manufacturing and local polymer solutions provider Stars Plastics Industries, were among the investments confirmed on the side-lines of the forum, which was organised by the Ministry of Industry and Advanced Technology in cooperation with the Abu Dhabi Department of Economic Development and ADNOC.
The investments reflect growing confidence in Dubai Industrial City's holistic ecosystem as an enabler of sustainable, long-term growth, in line with the Operation 300bn and Dubai Economic Agenda 'D33' strategies to increase the industrial sector's overall economic contribution and localise supply chains.
Saud Abu Alshawareb, executive vice-president – industrial leasing at TECOM Group, said, "Government initiatives such as Operation 300bn and Dubai Economic Agenda 'D33' are shedding light on the growth potential of the UAE and Dubai's industrial sector, attracting more investors and innovators to leverage our business-friendly legislation, high-quality infrastructure, and global connectivity to 'Make it in the Emirates'.
"Dubai Industrial City's strategic partnership with MoIAT and our #MakeBrilliance initiative are aligned with the long-term goal of helping our customers – existing and new – unlock opportunities to establish and expand their business in Dubai, the gateway to the MENA region and a global hub for doing business.
Our new agreements will boost the local market for the ever-expanding pool of 'Made in UAE' products that are steadily gaining buyer confidence in the global market."
Universal Rubber Belt Manufacturing is cooperating with global engineers to deliver a world-class Made in UAE product. Its new factory is expected to boost the supply chain in both the local and the regional market, and expand the range of products offered by Khaled Al Hashemi, the sole distributors of products by international brands including Continental, Roulunds, Hutchinson, Hanchang, and Yangsan.
Saud Alshawareb and Faisal Zarooni, CEO of Stars Plastics Industries, which was established in 2014 to meet the growing demand for food packaging products in the UAE, signed an agreement to invest US$24mn for the construction of a new packaging factory at Dubai Industrial City. Its products are Hazard Analysis Critical Control Point (HACCP) and ISO 9001:2015 certified, and construction work on its new packaging factory is scheduled to begin this year.
The Make it in the Emirates Forum was held under the theme 'Investment, Sustainability, Growth' this year, and acts as a platform for corporations and the government to discuss opportunities, address challenges, and explore the competitive advantages available in the UAE, such as incentives, enablers, infrastructure, financing, and partnerships.
Dubai Industrial City is part of TECOM Group's portfolio of ten business districts, including Dubai Internet City, Dubai Media City, Dubai Studio City, Dubai Production City, Dubai Science Park, Dubai Knowledge Park, Dubai International Academic City and Dubai Design District (d3).