Emirates Green Building Council (EmiratesGBC) has set nine priority areas to lead its activities throughout 2018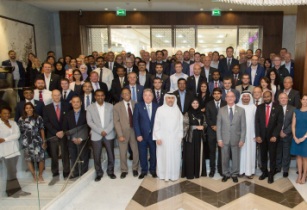 The management of EmiratesGBC. (Image source: EmiratesGBC)
Saeed Al Abbar, chairman of EmiratesGBC, said, ?EmiratesGBC has set our nine priority areas of 2018 after closely examining the UN SDGs and UAE?s 2021 Vision to establish how we can contribute to the global sustainability agenda as well as the UAE?s national priorities. For this reason, each of EmiratesGBC?s priority areas is aligned with a relevant SDG to create a more targeted impact.?
Forming part of the UN?s 2030 Development Agenda titled ?Transforming our world: the 2030 Agenda for Sustainable Development,? the SDGs form an integral part of the agenda as they emphasise sustainable and environmentally conscious social and economic development targets. Several of the SDGs promote the case for responsible, energy efficient, sustainable building practices that support the conservation by reducing reliance on high energy and water consumption.
Similarly, one of the target areas of the UAE?s Vision 2021 is the ?Sustainable Environment and Infrastructure? pillar that focuses on preserving natural resources, increasing the contribution of clean energy and building an energy-efficient, smart city infrastructure.
EmiratesGBC?s nine priority areas targeted for 2018 are:
? Building Retrofit Training ? to operate a training programme that provides capacity building for industry and government, encouraging retrofit of existing buildings.
? Benchmarking/Building Efficiency Accelerator ? to support Dubai?s commitment to the global ?Building Efficiency Accelerator? program and expand EmiratesGBC's benchmarking efforts to help operators and owners across various sectors gauge their building and operational performance, and ultimately offer a measurement to encourage stronger energy efficiency measures.
? Technical Publications ? to produce technical papers and publications relevant to the green building industry. Publications will include case studies, white papers and bi-annual reports among others.
? Emirates Coalition for Green Schools ? to engage UAE schools and encourage energy efficient operations and retrofits of existing school facilities. The programme promotes best practices and makes green building information readily available for school administration.
? Green Key ? to operate and grow the Green Key eco label to support sustainability in the hospitality industry in the UAE.
? Annual Awards ? to implement a MENA regional Awards Programme annually that honours companies who have demonstrated clear implementation of sustainable design, construction and/or operation of buildings and structures.
? Outreach and Awareness ? to host informative events, building tours and workshops, including the flagship Annual Congress, to educate and build capacity on green building topics within the industry.
? Membership ? to retain current members and recruit new members, thus broadening the Council?s impact for sustainable building practices.
? nZEB Centre of Excellence ? to lead the movement for Nearly Zero Energy Buildings in the UAE.
Some of the SDGs that EmiratesGBC has aligned with include Goal 3 that emphasises good health and wellbeing, Goal 6 for clean water and sanitation, Goal 7 for affordable and clean energy and Goal 9 on industry, innovation and infrastructure to promote inclusive and sustainable industrialisation.