Islamic Corporation for the Development of Private Sector (ICD) and I-FinTech Solutions (IFTS) have signed an investment agreement to implement blockchain solutions for Islamic banks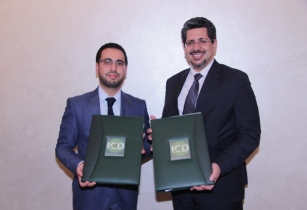 The signing of agreement between ICD and IFTS to implement new technology solutions in banking. (Image source: ICD)
In a statement, ICD, the private sector arm of the Islamic Development Bank Group (IsDB), has announced that it will work with Tunisia-based company IFTS to develop FinTech solutions.
The partnership involves a pipeline of Fintech products that will be developed and implemented to mainly solve the liquidity management issues.
The corporation stated that the first product in the pipeline is a real-time transactional platform, which will facilitate transacting of real commodities (serving as a commodity market) and solve the inter-banking issues between conventional and Islamic banks in a Shari?ah compliant way.
The use of blockchain in this product will reduce the overall execution time and cost of the financial and commercial transaction. It will also address the issues and challenges related to transparency and traceability of financial transactions.
Ayman Sejiny, CEO of ICD, commented, ?IT will always play an important role in the financial system. We will consistently pursue our strategy of service orientation and help our partners with innovative Shari?ah-compliant FinTech solutions.?
Mohamed Anouar Gadhoum, CEO-founder of IFTS, added, ?We are keen to work with ICD in the FinTech industry to promote the i-Trade Platform and help the banking sector through providing an innovative solution to operate and supply better services for the final user and clients.?