Oman?s SOHAR Port and Freezone has held a meeting of shipping agents ahead of the relocation of remaining commercial traffic from Port Sultan Qaboos, Muscat, at the end of the month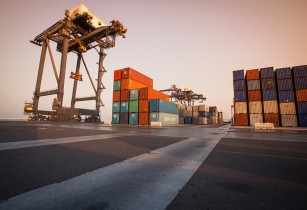 SOHAR Port and Freezone is preparing to take over cargo operations from Muscat?s Port Sultan Qaboos. (Image source: SOHAR Port and Freezone)
With current investments exceeding US$15bn, SOHAR Port and Freezone is preparing to take over cargo operations from the Muscat port, which will see it become the ?backbone of Oman?s shipping industry?, according to SOHAR representatives.
SOHAR Port and Freezone CEO Jamal Aziz said, ?The transfer of commercial traffic from Muscat to SOHAR is a significant step in making Oman?s ports more competitive in the region, and will allow Oman to take full advantage of its prime geographical location for international commercial shipping.
The meeting, held under the patronage of H.E Said bin Hamdoon Al Harthy, undersecretary general of the Ministry of Transport and Communications for Ports and Maritime Affairs, gave shipping agents the opportunity to discuss the move.
?We are committed to ensuring that the transition from Muscat is as seamless as possible,? added Aziz. ?Part of that commitment means listening to all the stakeholders involved, including our shipping agents, fully understanding their needs, and using those insights to make informed decisions on how we can best serve the industry.?
As a result of the meeting a group of representatives was formed with the aim of maintaining open communications between agents and SOHAR during the transition process.
Located approximately 200km northwest from Muscat, SOHAR Port and Freezone is a deep sea port and free zone and one of the world?s largest developments of its kind.
Read more?
Sohar Port and Freezone a ?vital contributor to Oman?s economy?
Oman project to add 2,000 megawatts to power capacity