Ali bin Masoud Al Sunaidy, Oman?s minister of commerce and industry, said that the government is focused on establishing the public?private partnership (PPP) framework to solve funding challenges and attract much-needed investment to deliver prioritised projects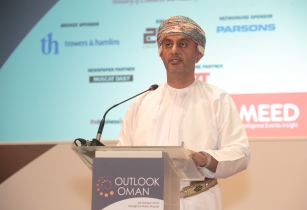 Ali bin Masoud Al Sunaidy delivered the keynote address at MEED?s Outlook Oman Forum in Muscat. (Image source: Outlook Oman)
Al Sunaidy reinforced that private sector role is the backbone of Oman?s ninth five-year development plan, the last of the series of five-year plans for the Vision 2020, which aims to achieve the goal of economic diversification.
The minister made the statement during the keynote address at the opening of MEED?s Outlook Oman Forum held in Muscat. The event was attended by an influential gathering of business leaders and government officials, with over a 100 companies in participation.
Pointing out the role that the private sector can play in the economy, Al Sunaidy said, ?Times of tight budgets like these provide an opportunity for PPPs and private sector ownership and finance. Indeed, it is international practice that many of these projects can be designed, built and/or operated by the private sector. This gathering can also offer recommendations on the required changes to the Laws, the tendering process, the corporate governance legislatives etc, in order to pave the way for a true shift and adequate transfer of assets from the government to the private sector.?
He added that the National Program for Enhancing Economic Diversification (Tanfeed) had been working to The objective is to expedite the process of diversifying Oman?s GDP away from oil while creating sustainable jobs for Omanis with focus on manufacturing, tourism, logistics as well as the two enablers, namely, finance and human capital development.
?The Tanfeed Labs have identified a number of projects that are ready to be implemented in these sectors while offering innovative ways of financing infrastructure projects including PPPs and the transfer of current government assets to the private sector.?