Ma?aden will acquire an 85 per cent stake in the Mauritius-based Meridian Group, a move in which Ma?aden is set to extent its network of operations across southern Africa ? from Malawi to Mozambique, Zimbabwe and Zambia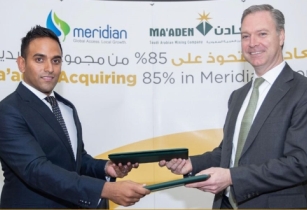 This acquisition marks a very important step in Ma?aden?s strategy to build global distribution channels. (Image source: Ma?aden)
?This acquisition marks a very important step in Ma?aden?s strategy to build global distribution channels for our fertiliser products,? said Darren Davis, president and CEO of Ma?aden.
As phosphate is used to produce fertiliser that is essential in replacing the phosphorous mineral that is removed from the soil when agricultural plants are harvested, the initiative aims to build one of the largest producers and exporters of phosphate fertilisers in the world, Davis added.
The southeast African market, like most of the African continent of one billion people, is witnessing increased demand for phosphate fertilisers that industry analysts expect to continue growing by five per cent annually over the next decade, fuelled by population growth and increasing education in the use of fertilisers.
The Saudi global mining company is expected to secure the remaining 15 per cent of Meridian?s equity over four years on agreed terms linked to the performance of the African company, which distributes approximately half-a-million tonnes of fertiliser through its network of granulation and blending plants, warehousing complexes and port facilities.
HSBC acted as Ma?aden?s financial advisor on the deal, and Baker McKenzie was the legal advisor for this acquisition.