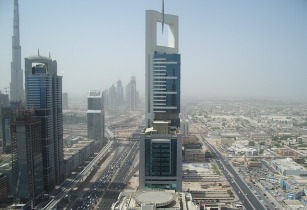 According to credit rating agency Moody's, the UAE's economy grew at a relatively strong three per cent in 2016, although less than the average 4.9 per cent annual rate between 2011 and 2015
---
The oil sector contributed more than one third to growth. However, the hydrocarbon sector is projected to contribute less in 2017 because of the recent OPEC decision to freeze production.
Moody's annual credit analysis for the UAE government says the UAE's non-oil growth decelerated again in 2016 to 2.7 per cent from 3.2 per cent in 2015 and 4.6 per cent in 2014 and that this relative slowdown is likely to extend into 2017, followed by a gradual recovery in 2018-2020.
In Dubai alone, exports grew by 10.6 per cent, passenger traffic at Dubai airport by 7.4 per cent and the number of hotel guests increased 4.9 per cent, says the analysis.
"The recovery in the real estate market is supportive of the UAE's growth outlook. In addition, we believe that non-residential construction related to World Expo 2020 will further contribute to economic growth," said Mathias Angonin, an analyst at Moody?s.
The drop in oil prices has led to fiscal deficits. However, revenue has been quite stable, with Abu Dhabi providing by far the largest portion, and the central government budget balance has fluctuated between small surpluses and small deficits, averaging a near-balanced position.
"Abu Dhabi recorded large fiscal surpluses averaging 13% of GDP over the five years leading up to the 2014-2015 oil price slump, and the resultant build-up of financial assets is an important underpinning of the UAE?s Aa2 rating," said Angonin.
Moody?s estimates that Abu Dhabi's fiscal revenues dropped precipitously in 2015 and 2016, pushing budget balances into negative territory. Dubai?s budget balance recorded an average surplus of 0.1 per cent of GDP over the past five years and expects to record a budget deficit of AED2.5bn (US$680mn), or 0.6 per cent of the emirate?s GDP, in 2017.
Meanwhile, Sharjah?s budgeted expenditure is projected to drop by half a percentage point of GDP this year, which combined with lower revenue, is expected to result in a fiscal deficit of 2.2 per cent of the emirate?s GDP in 2017, slightly higher than the deficit of 2.1 per cent in 2015.
On a consolidated government basis, the UAE?s general government debt, at an estimated US$71.7bn at the end of 2016, was equivalent to 19.3 per cent of GDP.
"As a result of spending measures and some recovery in oil prices, Moody?s expects the UAE's consolidated government deficit to come down in 2017, to 1.9 per cent of GDP, Moreover, we expect that further fiscal improvements in Abu Dhabi will support a return to a surplus at the UAE level by 2019," said Angonin. "The UAE's consolidated fiscal position also shows a diverging path between Abu Dhabi, where broad expenditure cuts were enacted, and Dubai, which has continued to raise expenditures ahead of World Expo 2020."