The US State Department held a signing ceremony in the Treaty Room on 15 November 2018 to recognise the ten-year renewal of the US-Libya Science and Technology Cooperation Agreement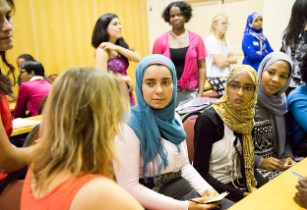 TechWomen empowers, connects and supports the next generation of women leaders in science, technology, engineering and mathematics from Africa, Central and South Asia, and the Middle East. (Image source: Exchanges Photos/FLickr)
The agreement was signed in the presence of Libyan Ambassador Wafa Bughaighis and Principal Deputy Assistant Secretary for the Bureau of Oceans and International Environmental and Scientific Affairs Judith Garber.
The renewal of the agreement between the US and Libya is important to further strengthening bilateral cooperation in science, technology, engineering and mathematics (STEM) fields.
Improving STEM partnerships through the agreement is vital to increasing US-Libya collaborations, which will foster innovation and increase prosperity for all Libyans.
In 2019, in collaboration with Libya 's Ministry of Education, the US Embassy Libya will implement a number of US exchange programs that will provide new opportunities for talented youth and STEM educators in Libya, including the newly relaunched TechWomen programme.
The embassy is working with local partners to support and inspire young innovators throughout Libya through afterschool English and tech programmes, youth robotics programmes, and the return of the US-Libya space camp scholarship, to mark the programme?s tenth anniversary.