The firm, which provides 3D building solutions for the construction sector, received the prize during the Sustainability Innovation Awards 2023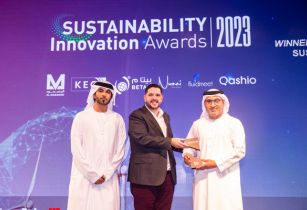 The 3D printing construction market is projected to reach US$1.7bn by 2030, at a CAGR of 207.1% from 2023 to 2030. (Image source: 3DXB)
Held at the Sofitel hotel at The Palm in Dubai, the award ceremony acknowledged dedication of organisations and individuals to advancing environmentally responsible practices and innovations.
3DXB Group has specialised branches in machinery, micro-concrete, and training as well. The company debuted in the UAE industry this June, and hopes to aid in the construction of sustainable and futuristic buildings.
The 3D printing construction market is projected to reach US$1.7bn by 2030, at a CAGR of 207.1% from 2023 to 2030. One of UAE's objectives is to regulate and promote the use of 3D printing in construction, with a goal of constructing 25% of buildings using this innovative technology by 2030.
Badar Rashid AlBlooshi, chairman of 3DXB Group, said, "Receiving the 'Sustainable 3D Printing Company of the Year' award in 2023 is a testament to our unwavering commitment to advancing the construction industry through innovation and sustainability. As a regional frontrunner, 3DXB Group is deeply honoured to align with the sustainability drive of the UAE. We remain dedicated to driving the widespread adoption of 3D printing in construction, making it a cornerstone of sustainable development in the UAE and beyond. This award is a reflection of not just our commitment but also the collective efforts of our dedicated team and partners in reshaping the landscape of sustainable construction."
AlBlooshi added, "Together, in the 'Year of Sustainability,' we embrace the UAE's commitment to sustainability which embodies our core values and echoes the vision of late Sheikh Zayed bin Sultan Al Nahyan, the Founding President of the UAE."