Moving ever forward, planning and executing the latest innovative techniques in construction and architectural designs, Dubai serves as a beacon of unbound creativity and inspiration across the globe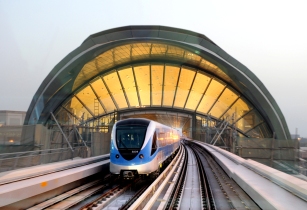 RTA Metro expansion image. (Image source: The Big 5)
Dubai?s approach in construction knowledge, technology, and materials can be seen throughout its many endeavors. With many projects currently live and slated projects in the pipeline, the gleaming emirate is turning heads and generating quite the following.
Already home to the tallest building in the world, the UAE seeks to out-do itself: The Tower at Dubai Creek Harbour, scheduled to have its first phase completed in the next five years, plans to be even taller than the Burj Khalifa. In time for the UAE?s hosting of Expo 2020 Dubai, The tower will boast an impressive height of 928 metres and will emit a ?beacon of light? from its peak at night.
While many of Dubai?s projects are going vertical, staying grounded and spanning across the city, the Road and Transportation Authority (RTA) sets on expansion plans of its already intricate and efficient metro line. The expansion of the Red Line and Green Line come to life to support the estimated influx of tourism and new residents in preparations for the Expo 2020. Planned lengthening for the Red and Green Line are 3.5km reaching from Rashidiya to Mirdif and 20.6km Jaddaf to Academic City, passing through Festival City, Ras Al Khor, International City and Silicon Oasis, respectively. Awarded tenders are expected to follow in 2018.
Looking up towards the sky, the RTA has completed one of its New Year goals, providing a world first by introducing its branded Flying Taxi Service. With further expansion plans into the summer, RTA's fully functioning, touch screen operated one-person drone, launched its first human tested fare in collaborations with Chinese drone firm EHang. The EHang 184 weighs in at 250kg without its passenger, is 3.9m long by 4m wide and 1.6m high and will fly for a maximum of 30 minutes at a cruising speed of 160km/h and a cruising altitude of 3,000ft.
With hundreds of projects taking shape ahead of Expo 2020, the global construction industry is looking closely at the multi-billion dollar opportunities Dubai has to offer. As the largest and most influential construction exhibition in the whole Middle East, The Big 5 this year will be an unmissable platform for construction players from around the world to meet, network and capitalise on the emirate?s growing market. Highlighting these and other exciting construction developments, The Big 5 Dubai 2017 will run from 26-29 November 2017 at the World Trade Center in Dubai, focusing on Construct Technologies and Innovations.