The Dubai Silicon Oasis Authority (DSOA) has launched an integrated 'smart city' project called Silicon Park, worth US$299mn and spanning 150,000 square metres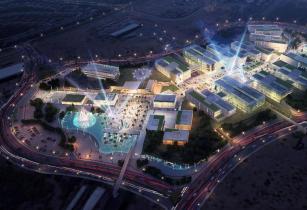 The Silicon Park project aims to articulate Dubai's Vision 2021 and transform the emirate into a smart city. (Image source: Dubai Silicon Oasis Authority)
According to Sheikh Ahmed Saeed Al Maktoum, chairman of the DSOA, the project will be completed in Q4 2017, and aims to articulate Dubai's Vision 2021 to transform the emirate into a smart city.
The Silicon Park project comprises 97,000 square metres of office space, 25,000 square metres of commercial space, 20,000 square metres of residential space and facilities such as a 115-room business hotel, restaurants, fitness centres and a shopping complex, among others, added the DSOA.
Mohammed Alzarooni, CEO of the DSOA, said, "The project provides the best solutions and systems in information and communications technology and includes all the equipment that makes it a model for future smart cities. It also reflects the readiness of Dubai to adopt the latest innovative technological solutions. The Silicon Park project is a true example of what the future will be like in live-work environments connected to the Internet and smart applications."
The project is compliant with the UAE Green Building Regulations and Specifications and the international LEED (Leadership in Energy & Environmental Design) standards, stated the body. Buildings within the Silicon Park will have green roofs, including plants and trees which will require minimum irrigation.
Other advanced features include smart lighting systems with motion sensors, remote-controlled digital signboards across the facility and virtually generated maps to direct visitors.