Logistics company Aramex has awarded a five-year contract to the UAE-based facilities management services provider Emrill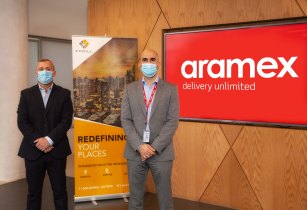 From left: Stuart Harrison, Emrill?s CEO; Ahmed Marie, general manager of Aramex. (Image source: Emrill)
The scope of the contract includes mechanical, engineering and plumbing (MEP), housekeeping and specialist services across the company?s seven facilities in Abu Dhabi and Dubai.
Emrill team will deliver a comprehensive range of MEP services, including firefighting and maintenance of chillers and building maintenance systems. The company will carry out fa?ade cleaning, a service added to Emrill?s range earlier in 2020. Housekeeping services will be delivered within office and warehouse environments.
Stuart Harrison, Emrill?s CEO, said, ?Logistics and the requirement for goods to be moved efficiently have become more important than ever before for many companies and individuals, as we face the challenges of a global pandemic, including movement restrictions and reduced travel.
?This contract marks our most significant win within the logistics sector, which we have identified as a key growth area for the business,? Harrison added.
Ahmed Marie, general manager of Aramex in the UAE, commented, ?During this challenging period, Aramex continues to find solutions to optimise costs and improve operational efficiencies of our physical assets. The agreement with Emrill will support us, not only in realising cost savings, but also increasing our productivity to affirm our commitment to providing safe and essential services to customers.?
Servicing a built-up area of more than 138,000 sq m across seven locations in the UAE, Emrill will deploy teams in Dubai Logistics City, Umm Ramool, Al Quoz, Mussafah and Abu Dhabi Airport Free Zone.
In addition to providing integrated hard and soft facilities management into the country?s logistics sector, Emrill also deliver services within some of Dubai?s most prominent buildings and master communities, including Dubai Marina and Downtown Dubai.