Dubai is currently building its very own iconic world expo landmarks and many of the Expo 2020 Dubai-related construction projects will remain as permanent structures once the expo is over, with its legacy expanding well beyond the 438-ha exhibition site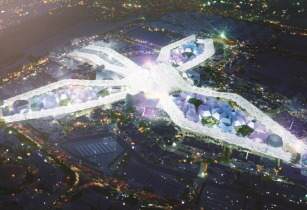 More than US$8bn investment allocated to transport and infrastructure projects in and around the Expo 2020 Dubai site, according to latest BNC report released by The Big 5. (Image source: Expo 2020)
Expo 2020 Dubai is currently driving a high-volume of construction activities across the emirate. According to the ?Expo 2020 Dubai - Infrastructure Development Report? prepared by BNC Network for The Big 5, the total estimated value of project investments to develop the expo site is between US$2bn and US$4bn, while over US$8bn is allocated to transport and infrastructure projects in and around the site.
In line with the Dubai 2020 Urban Master Plan to build thriving metropolitan districts and a modern infrastructure, some high-value projects related to Expo 2020 include the Dubai Metro Red Line Extension (US$2.9bn), the Expansion of Al Maktoum International Airport ? Phase 2 (US$2bn), and Improvement of Roads Networks ? Phases 1 to 5 (US$390mn).
On 26 November, Expo 2020 Dubai?s vice-president of real estate and delivery, Ahmed Al Khatib, will speak at The Big 5?s Excellence in Construction Summit and discuss the construction progress expo is making and the long-term impact which the global destination will have on Dubai.
Josine Heijmans, portfolio event director of The Big 5, said, ?The award of Expo 2020 has provided a strong stimulus for construction activities in Dubai ? the emirate has nearly 200 active transport projects at the moment, with a combined estimated value of US$34bn. It?s therefore an honour to host Expo 2020 Dubai?s vice-president of real estate and delivery, Ahmed Al Khatib, as a keynote speaker at the Excellence in Construction Summit.?
Bringing under one roof the visionaries and forward-thinking leaders, The Big 5?s high-profile summit will unveil and explore current and future trends of the construction sector in Dubai, the GCC region and beyond. Beside Al Khatib, some of the confirmed VIP speakers include Dr Ahmad Bin Hassan Al Shaikh, chairman of Ducab HV, Bibop G. Gresta, chairman and co-founder of Hyperloop Transportation Technologies, and PNC Menon, chairman and founder of Sobha Group.
The 38th edition of The Big 5 runs from 26 to 29 November at the Dubai World Trade Centre. Being the largest and most influential event for the construction industry in the Middle East Region, The Big 5 hosts over 2,500 exhibitors from 60 countries, and is expected to attract 78,000 construction industry professionals from all over the world. Beyond showcasing the latest and most innovative products and solutions for the built environment, the event also features two high-level conferences, 72 free to attend and CPD-certified ?Big 5 Talks?, Live Product demonstrations, and the 10th edition of the GAIA Awards.
Organised by dmg events Middle East, Asia & Africa, The Big 5 is co-located with The Big 5 Solar, a premier platform for solar industry professionals to network and do business in the Middle East, which is under the patronage of the UAE Ministry of Economy.