Global elevator and escalator company Kone has initiated the first phase of elevator installations at Saudi Arabia?s Kingdom Tower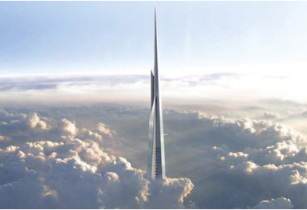 An artist?s impression of the Kingdom Tower, which rises to a height of nearly a 1,000 metres. It will be the tallest building in the world, when completed. (Image source: Kingdom Tower)
Kone, which was awarded a contract to supply elevators for the nearly one kilometre-tall building in Jeddah, is currently working on pre-installation activities pertaining to fitting the elevator system?s guiderails. The installation of guiderails and the eventual installation of elevator cars will commence by the end of 2015, confirmed company officials.
The owner and developer of the Kingdom Tower is Jeddah Economic Company (JEC). CEO Mounib Hammoud said, ?I am delighted that we are now at the stage of taking the next leap with Kone in the construction of the Kingdom Tower. Kone is the only vertical transportation service provider in the world capable of delivering what we need at the Kingdom Tower ? specifically the capability of travelling at a speed of an excess 10 metres per second with double-deck elevators to reach the highest liveable floor in the world, in 52 seconds.?
Additionally, the high-speed elevators will rise 660 metres to the observation deck, making it the world?s highest elevator rise, added Hammoud. The ultra-fast double-deck elevators will be duly supported by Kone?s UltraRope technology and People Flow Intelligence Solutions. The UltraRope supposedly weighs only a third of that of normal ropes.
The Kingdom Tower, once complete, will be the world?s tallest tower.