The Red Sea Development Company, led by CEO John Pagano, provided an update to King Salman on the ambitious tourism and leisure project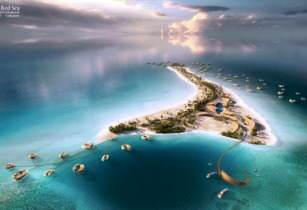 The Red Sea project is located along the western coast of Saudi Arabia, between the cities of Umluj and Al Wajh. (Image source: SPA)
Pagano gave a presentation detailing the master plan for the Red Sea Project and its economic and developmental objectives, which aim to establish it as a leading global destination in the luxury tourism sector.
The first phase of the project, scheduled for completion in 2022, will include up to 3,000 hotel rooms, an airport to serve the destination, and marinas, along with residential properties and recreational facilities.
By the time the project is completed, there will be 22 developed islands out of a total of 90 islands. It is expected to create 70,000 jobs and play a significant role in driving economic diversification in the kingdom by attracting nearly a million visitors a year and contributing US$5.86bn to the country?s GDP.
According to Pagano, the project?s objective is to position the kingdom on the global tourism map, create investment opportunities for local private-sector companies, and develop the country?s tourism industry while preserving the nation?s cultural and environmental heritage.
Targeting local, regional, and international tourists, The Red Sea project is projected to welcome one million visitors per annum by 2035, with the yearly number of visitors capped in order to protect the ecosystem and preserve the area?s natural habitat. To achieve this ambitious goal, the newly mapped semi-autonomous area will be governed by laws on par with international standards that will include no visa requirements for most nationalities.