The Iraqi-British architect Zaha Hadid's sand dune-shaped Bee'ah headquarters in Sharjah is well underway, with significant sections already finished and expecting to be completed in late 2018, according to New Atlas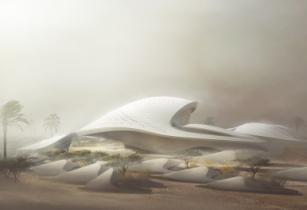 The structural steelwork of the Bee'ah headquarters has been installed, along with the building's centrepiece concrete dome. (Image source: MIR/Zaha Hadid Architects)
The Bee'ah headquarters' dune-like design has been intended to blend in with the local desert landscape. It is expected to serve a Middle East environmental waste management company and is slated for LEED platinum certification.
Recycled building materials are being used for the completion of the project. The aim is to ensure that no building waste should reach the landfill. The building is being oriented to make use of the prevailing breeze for natural cooling and once complete, it is expected to use energy and water-saving fixtures such as LED lighting, low-flow taps and toilets.
Bee'ah headquarters will get all of its electricity from the sun. Solar panels will be hooked-up to Tesla's Powerpack battery system, providing a total capacity of 1,890 kWh. In addition, gray water will be re-used and the landscaping will feature native vegetation that requires little irrigation.
?With its ultra-low carbon footprint, minimal water and energy usage and the efficient recycling of construction materials, this project will set a benchmark for all future green construction projects in the Gulf region,? said Salim Al Owais, chairman of Bee'ah.
?It is also a model for a green building system that can be replicated across the UAE, as the nation seeks to transition into a green economy,? he added.