Afinitas, the leading global infrastructure equipment and services company, has aligned its platform of infrastructure technologies into three, solution-focused business units that are defined by the customers and markets they serve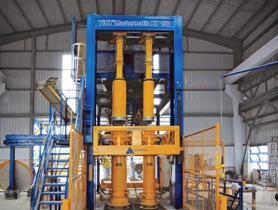 Afinitas has aligned its platform of infrastructure technologies into three, solution-focused business units. (Image source: Afinitas)
This new company structure, which combines the strengths of its well-known HawkeyePedershaab, BFS, New Hampton Metal Fabrication, Spillman Company and CAM Products brands, enables Afinitas to better address the global needs of its pipe and precast concrete producers with more sales, engineering, technology and customer support resources and an enhanced product selection.
The three Afinitas divisions are:
Afinitas Equipment and Automation, led by Daniel B?hler, president, which includes machinery and services from the trusted HawkeyePedershaab and BFS brands. With offices in the U.S., Denmark, Germany, Italy and India, this division serves the needs of drycast and wetcast concrete product producers worldwide.
Afinitas Forming Systems, led by Jamie Wegner, president, which brings together the strengths of U.S.-based companies New Hampton Metal Fabrication and Spillman Company to provide a wide spectrum of wetcast molds, including molds for architectural, transportation, storm and sanitary sewer, utility and retaining wall products.
Afinitas Concrete Accessories, led by Kirk Schall, president, and headquartered in Mediapolis, IA, USA. This division offers CAM Products, HawkeyePedershaab, Spillman, plus newly acquired Amifast (USA) and Caswick Ltd. (United Kingdom) brand accessory products. The selection includes high-quality steel and plastic reinforcement spacers for drycast and wetcast applications, magnet adaptors, shear steel stirrup mats, polyurethane products, fasteners and lifting devices, manhole steps and other pipe and precast production accessories.
Afinitas? new organisation is reflected in its marketing and new website, www.afinitas.com, and in the rebranding of its locations and operations worldwide as Afinitas.
?Our strong brand products like HawkeyePedershaab and BFS remain. However, combining these brand strengths into unique, yet complementary, business units under the Afinitas umbrella is helping us build a company and customer experience unmatched in the industry,? said Brad Schmidgall, Afinitas CEO. ?We are confident the result will be new innovations that will benefit our team members and the industry.?
To learn more about Afinitas see the website at www.afinitas.com or visit Bauma Stand 337 in Hall B1.