Midea Building Technologies has introduced the V8 Variable Refrigerant Flow (VRF) series in the UAE, offering intelligent solutions for the HVAC industry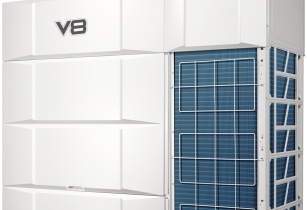 The new series will be represented by Taqeef, leading AC and cooling solutions provider, in the UAE. (Image source: Midea)
The V8 series, encompassing major features of all VRF technologies as well as advanced and improved features allows for achieving a reduction in energy consumption and providing a superior and optimal comfortable environment for occupants in terms of temperature, humidity, airflow, and indoor air quality. Midea said during a conference in Dubai, that the V8 can work in temperatures ranging from 55 degrees C to minus 30 degrees C.
The new series will be represented by Taqeef, leading AC and cooling solutions provider, in the UAE.
Tariq Al Ghussein, CEO at Taqeef, said, ?Cooling accounts for 10% of the global electricity use and nearly 4% of the annual greenhouse gas emissions . In a climate like ours that relies on cooling to function, we have a duty to find more efficient ways to cool our spaces and places. Innovations in HVAC technology - such as the Midea V8 VRF series ? are driving sustainability through more conscious cooling, while also contributing towards the UAE Net-Zero by 2050 strategic initiative.?
The series is integrated with a smart algorithm that uses real-time technology and dictates the optimal temperature and precise refrigerant flow and the air volume of the indoor units. The operating data of the system is analysed through Artificial intelligence. For instance, it can sense clogged heat exchangers and refrigerant attenuation, providing timely notification to the maintenance team, and ensuring active energy conservation during the whole life cycle of the VRF system.
The V8 Series VRF addresses many other industry challenges through multiple industry-first technologies such as ShieldBox that safeguards against any unexpected electronic control failure due to harsh climatic reasons, SuperSense and HyperLink that serves as leverage in instances of power failure and ensures continuous system operation during servicing.