Atlas Copco has launched the new air compressor, the GA 90+-160 (VSD+) oil-injected screw compressor range, aiming to achieve reduced energy consumption and ease of installation and service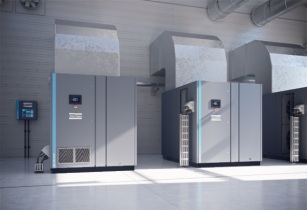 Atlas Copco GA 160 VSD. (Image source: Atlas Copco)
According to the company, it features new compression elements with Smart Injection technology coupled with highly efficient oil-cooled IE4 and IE5 motors that avoids the need of service interventions.
The new Elektronikon? Touch controller, available in water- and air-cooled versions with integrated smart algorithms, further reduces energy consumption, said the company.
?The latest generation of GA compressors are particularly well suited to the mining industry, metal processing and power plants where its IP66 drive train offers complete protection from environmental dust and moisture ensuring reliable operation even in the harshest environmental conditions,? said James Elbro, product marketing manager.
All components focus on achieving ease of service with the most commonly serviceable parts grouped together for ease of access while the patented portal design enables full access to all components when more extensive maintenance is required.
Atlas Copco said that it is providing customers with a five-year warranty on the complete machine, ensuring smooth operation in the harshest environments.
The new Optimiser 4.0 central controller replaces the company?s ES16 central controller, enabling a compressed air system to be optimised through selection of the most efficient combination of machines, such as compressors, dryers, filters, controllers, energy recovery systems, generators, air receivers, coolers and boosters.
Optimiser 4.0 can also be monitored through a customer?s PC via LAN, a SCADA system or SMARTLINK. It aims to enable the internet of things and the digital integration of the air compressed system with other intelligent networked devices to improve equipment performance, enhance predictive maintenance and further increase energy efficiency, stated the company.