AMCS Technologies, provider of crane collision prevention technologies across the globe with an active focus on the Middle East market, has discussed ways to avoid collisions between lifting equipment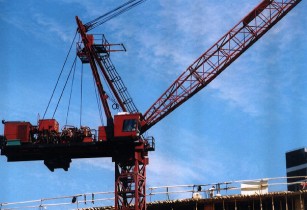 The company aims to provide a smooth and comprehensive operating assistance. (Image source: Mike/Flickr)
As avoiding collisions between cranes and other objects is a vital part of any construction site, especially on multi-crane sites, ensuring the supply of materials, tower cranes play a crucial role in the functioning of the jobsite.
Any problems can generate accidents, death, delays and financial loss, which may severely impact the future projects, the reputation of the construction company and the skillset.
In order to avoid such mishaps, AMCS has introduced DCS 60, its flagship anti-collision product.
The DCS 60, for driving control system, is a driving assistance for the operator by managing in real time the risk of collision between cranes? elements in interference and prohibited overflight areas such as schools, railways, roads etc.
According to AMCS, ?It is universal and suitable for all kinds of cranes and job sites. Its simplicity of use marked a turning point in the anti-collision environment. The product excelled for its intuitiveness and its reliability on any type of job site.?
The three fundamental functions of the DCS 60 are:
Zoning:
The 3D prohibited zones (up to 44) are quickly defined directly on the screen, by associating geometric shapes with the areas concerned. They can also be programmed at the bottom of the crane and inabled/disabled via the radio network.
Anti-collision:
The system operates in real time and in 3D to calculate the distances between each part of the crane as well as movement speeds. It enables action to be taken on equipped mechanisms to ensure complete immobilisation of the crane at a pre-set distance from a particular obstacle.
Display unit and data logger:
This continuously records and saves events related to ?prohibited area? and ?interference? function management, allowing direct viewing and downloading to a flash drive. An additional function enables the dynamic recording of certain information concerning system or crane status.
Benefits:
DCS 60 aims to provide a smooth and comprehensive operating assistance, intuitive programming of zones and delivery targets and an ergonomic screen with carefully designed display to track all operating parameters. With the real-time crane tracking system, DCS 60 also focuses on emphasising safety requirement at the jobsite.