The B730 M-Series Backhoe Loader from Bobcat has been introduced for the Middle East, Africa and CIS markets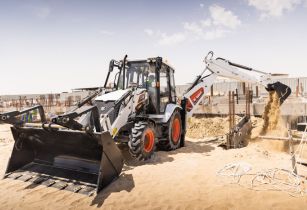 The B730 M-Series jcb has a digging depth of 4.63 m. (Image source: Bobcat)
The B730 M-Series is a long-lasting machine with dependable, high-quality components and durability that offers great performance, simplicity of use, and superior comfort. It was designed and constructed at the Doosan Bobcat manufacturing facility in Chennai, India, and can be used in the construction, rental, roadworks, demolition, excavation, landscaping, and many other industries.
The hydraulic Tandem Gear Pump and Synchro Shuttle (SPS) gearbox are well-balanced with the 94 HP Perkins High Torque engine to deliver productivity and efficient fuel usage. Along with the highest loader lift and push breakout in its class, the B730 M-Series hydraulics also offer jcb breakout forces. In addition, the B730 M-Series jcb has a digging depth of 4.63 m (standard arm), making it ideal for any location.
The machine helps to give power only when necessary and keep the systems cool in difficult working conditions thanks to the independent steering pump and hydraulics unloading system. A basic function of the front loader is "return to dig," which boosts productivity when loading and dozing materials.
The driver can complete any task more easily because of the straightforward operation and 360-degree vision from the cab. Additionally, there are side windows that open completely and catches to keep the door open for additional ventilation when the optional HVAC system is not required.
Customers migrating from another brand to Bobcat don't have to worry because they can have their equipment factory-configured with the familiar ergonomic control arrangement. Operators can easily walk into the machine and begin working as soon as they choose an ISO, SAE, or SAE-X control pattern from the factory. Both of these standard functions—"return to dig" and "bucket float"—help the operator be more productive. The mechanised backhoe's direct control.
The performance of the B730 M-Series is unaffected by even the hottest and toughest conditions thanks to high-performance aluminium coolers and an efficient and long-lasting Multi-Wing cooling fan. Outstanding autonomy is made possible by the extra-large 160 l gasoline tank and fuel efficiency, allowing work to go on for longer between fill-ups. To provide the fuel tank even more sturdiness on the market, it is also composed of plastic that resists corrosion and is guarded by metal bars.
An innovative feature that leads the industry is the ability to flip the hood forward to access the engine. This innovation makes it simple to access all vital fluids, filters, and components, facilitating simple daily maintenance tasks and consumable part replacement. All areas, including the utilisation of a distribution hose box for the backhoe side-shift, have had careful consideration given to hose routing and protection. A set of common tools is provided to make daily maintenance easier.
A standard two-year warranty is provided for all Bobcat backhoe loaders.
For more information about Bobcat and Bobcat products, visit www.bobcat.com