At a press conference held on Wednesday at The Shard in London, members of the Perkins team provided a thorough overview of their upcoming projects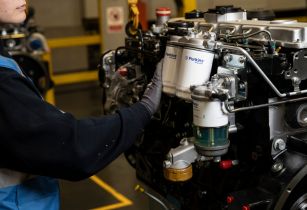 Perkins on Wednesday held a press conference to highlight its latest products. (Image source: Perkins)
The new corporate rebrand served as the day's main theme, where the company addressed issues surrounding uncertainties and challenges are plaguing customers, what social pressures they are having to deal with, what expectations are being set for them, and the fact they are operating in an unprecedented period of relentless change.
This was taken as a call to energise connections, bring ideas together, and eventually drive change via a more agile, smarter product (as a revitalisation to its predecessor: "The heart of every great machine"). It also brings with it the Perkins commitment to create more intelligent, integrated, cost-effective, and productive solutions to promote sustainable electricity.
The new, next-generation 13-litre diesel engine, created for demanding uses spanning agriculture, construction, and other off-road applications, is the best example of this new ambition. The Perkins 2600 Series was, according to Allen Chen, product marketing manager, who presented in London, delivered upon the understanding that what customers want "is not another evolution, but a revolution."
It extends the company's portfolio with eight power ratings from 340 to 515 kW, offering up to 3,200 Nm of peak torque and is delivered to perform in extreme conditions such as high altitudes and temperatures.
In a nod to the growing concern of environmental impact, Perkins will offer the 2600 Series engines configured to meet the emissions standards of higher-regulated countries (such as EU Stage V) alongside versions for countries with lesser regulations.
Expanding the portfolio
Project COEUS, named after the Greek titan god of intelligence and curiosity, is an advanced integrated power unit representing a robust plug and play power solution, delivering consistent power system performance regardless of fuel type, reducing OEMs design integration demands and OEMs Power Systems Installation Validation and A&I demands.
The advanced system integrated into a compact 'drop-in' solution for flexible lower-carbon intensity power is expected to benefit from advanced digitisation such as online system optimisation, advanced hybrid systems and an advanced Spark ignited LCI ICE platform.
It was indicated that a demonstration machine could be produced in around three years and more information about the project will be being released in the near-future.
Alongside this, the Perkins presenters drew further attention to innovative advances the company is pioneering including its work on electrification – where a reportedly significant amount of time has been spent to develop the company's product range.
Comprehensive support
Speaking in London, Matt Burton, Perkins aftermarket & lifecycle & commercial manager, estimated there were around 4.5 million Perkins engines or powered equipment in circulation right now, performing productively in around 5,000 different applications. This is an impressive boast for the company, but it means that there is a wide array equipment owners counting on Perkins to ensure they can meet their objectives.
This responsibility is not, however, taken lightly by Perkins whose Aftermarket Services offer a lifetime of engine support to maintain support and extend product life – from the moment of purchase, through to replacement of engine. Its network of 88 distributors are there for customers in 185 territories with expertise, parts and support trained by Perkins to ensure low cost of ownership.
Read the full article on African Review.