SCAVO, a partnership between Saudi Contractors Authority (SCA) and Ventures Onsite, is tracking construction projects across Saudi Arabia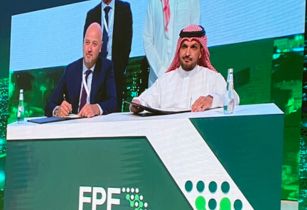 More than US$64bn in contracts are anticipated to be handed to contractors in the kingdom in 2023. (Image source: SCAVO)
The company provides practical insights, real-time data, and market dynamics to professionals in the construction business. SCAVO keeps tabs on more than US$1.5 trillion worth of ongoing building projects in Saudi Arabia, and its coverage area also includes markets beyond into the Middle East and Africa. More than US$64bn in contracts are anticipated to be handed to contractors in the kingdom this year, with over US$40bn already issued since January 2023, according to SCAVO's study of contractor awards.
A sophisticated web-based platform called SCAVO keeps track of projects in a variety of industries, including construction, oil and gas, manufacturing, infrastructure, and electricity and water. The extensive coverage of this platform guarantees that users have access to the most recent information on construction projects, key players, trends, and advancements within these industries.
Its powers are further expanded by the availability of analytical and statistical tools that aid users in comprehending the structure of the construction industry. Users may track market trends, evaluate rivals' actions, and gather insightful data to inform strategic strategy.
A wide range of stakeholders' requirements will be met by SCAVO, both directly and indirectly. The platform runs on a subscription-based business model and offers invaluable benefits to suppliers, consultants, project owners, contractors and subcontractors, and project management firms.
For precise targeting and improved bidding success, contractors and suppliers have access to updated information on planned and existing construction projects. The platform makes real-time project information available to consultants and project management firms. Additionally, it aids them in creating suggestions for customers and pre-qualifying suppliers and contractors. Owners of projects utilise the platform for planning and research phases. Additionally, it provides a clear image of who is doing what and aids all of its users in understanding the building environment in the area.
Users of SCAVO's website have access to a dynamic platform where they may access real-time data, historical records, and sophisticated analytics. Construction industry experts may recognise chances for development, recognise possible dangers, and make well-informed decisions that lead to success by utilising this data.
Nasser Al-Hajri, chief of industry services at Saudi Contractors Authority, said, "SCAVO is one of our latest strategic initiatives for the KSA construction market, in partnership with Ventures Onsite, the market leader in tracking construction projects for the region. We are confident our members, as well as the KSA construction industry as a whole, will benefit immensely from the information and analysis SCAVO can offer."