Bobcat has launched a new version of the company?s top-of-the-range T870 compact tracked loader featuring a new torsion suspension undercarriage, replacing the previous T870 model with a roller suspension system, for Europe, Middle East, Africa, Russia and CIS markets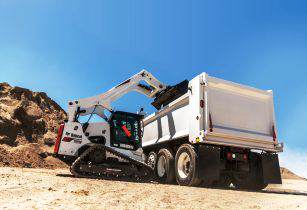 The new T870 model is available with a wide range of standard and optional features and in a range of configurations to match emissions and specification requirements of the Middle East. (Image source: Bobcat)
Introducing a completely new undercarriage design to Bobcat compact tracked loaders, the torsion suspension undercarriage features torsion axles that dampen vibration, combining the comfort of roller suspension and the stability of a solid mount undercarriage with other new features to provide a tracked loader that outperforms all other machines on the market.
The new T870 torsion suspension machine offers 10% more lift capacity than the previous roller suspension model. The new T870 model is available with a wide range of standard and optional features and in a range of configurations to match emissions and specification requirements for the said markets.
The new T870 provides a more comfortable and relaxed environment in the cab ? achieving a new level of comfort without sacrificing work performance. The torsion suspension improves not only ride quality but also absorbs stresses and vibrations encountered on the job. The result is reduced wear and tear, and improved component life, throughout the machine.
The key product improvements and customer benefits are:
? Improved comfort and ride quality with reduced vibrations and noise inside the cab
? Increased stability with superior grading and ground engagement characteristics
? Increased flotation and reduced ground pressure with increased ground contact
? Highest lifting capacity compact loader with increased performance
? Increased uptime with increased productivity
? Increased durability and reliability with increased productivity
? Improved debris shedding with ease of clean-out
The five-link torsion suspension undercarriage minimises rocking when lifting a load high or when performing grading tasks. With the new Bobcat undercarriage, there is no trade-off between comfort and performance. An additional link on the rear axle stabilises the system to decrease rocking or bouncing and increase productivity.
The unique fifth link acts like an independent suspension, increasing ride comfort and greatly reducing the rocking effect that is typically associated with torsion suspensions. Equipped in this way, the Bobcat T870 compact tracked loader feels even more stable and grounded, which improves ride quality and delivers unmatched performance when lifting and grading.
Improved comfort and ride quality also result from the use of dual-flange front idlers that ride on the rubber track?s roller way. The rollers and the dual-flange front idler ride on rubber to dampen vibration. They are also wider, which maximizes their contact with the track for a smoother ride, further improving comfort and ride quality as well as increased uptime. The larger circumference of the rear idler provides more surface area for less wear per rotation, which increases overall component life.
The larger rear idler is positioned further back within the undercarriage system, allowing for greatly increased downward force to the cutting edge of the bucket or attachment. The added diameter of the new rear idler provides optimal contact with the track, which maintains tension and protects against de-tracking.
The larger rear idler rolls easily over objects when backing up or travelling in reverse ? which is ideal for forestry job sites or working in areas with lots of debris. These rollers are also wider to maximise contact with the tracks, minimise wear and deliver a smoother ride.
Longer tracks provide increased flotation and reduced ground pressure, by increasing surface area and ground contact for better flotation, ride quality and improved performance in soft conditions.
Auto track tensioning
The durable design of the new T870 model further improves uptime performance, with forged steel idlers guiding and supporting the track around the ends of the undercarriage. The solid steel design of the idlers ensures they stand up to harsh operating conditions. Hydraulic hoses are carefully routed and protected inside the undercarriage. This durable design keeps hoses free from snags and obstacles on the job site, preventing costly downtime.
The self-contained axle system contains an inner bar surrounded by four rubber cords. The inner bar is heat-treated for maximum strength, which translates to increased longevity and more uptime. Undercarriage bushings and seals are made with high-grade, high-quality steel for maximum durability. Five easy-to-access grease zerks ensure regular greasing is an easy and simple process. They are also recessed for protection from job site objects and debris.
An open shape design improves ease of clean-out and debris shedding. A horizontally mounted hydraulic track tension cylinder opens more room between the carriage and the track for easier clean-out. The undercarriage is sloped on both sides to shed material, such as sand, dirt, mud and debris better than the previous design. Additionally, raised cut-outs between the rollers to allow for easier cleaning. A new roller clean-out opening provides additional access to clean mud, dirt and debris from the undercarriage.
Increased durability and reliability result from a cast front roller and idler mount, which bear much of the load when pushing and lifting. Where other manufacturers rely on layered, welded steel, Bobcat undercarriages have a solid, cast-steel front roller and idler mount design. This eliminates welds and distributes stress across one seamless component that has additional metal and strength precisely where it is needed most.
The new Bobcat drive motor is more reliable and it is easier to maintain than ever before. The outer bearing life has been improved dramatically thanks to continuous lubrication from oil in the hydraulic system. The diameter of the drive shaft inside the gearbox is also 15 per cent larger than before, which greatly enhances durability. The outer cavity reservoir housed within the new drive motor is now easier to flush and fill with the addition of two service ports that can be accessed without removing the track or sprocket.
The T870 loader is intended to run the most powerful attachments from Bobcat such as wheel saws to cut trenches for cable/pipe laying and the highly productive forestry cutter attachment. As well as work with these powerful attachments, the high productivity of the machine provides new solutions for other demanding applications such as ship trimming, grading, lifting, planing, landscaping, trenching, rental, construction and demolition.