Three Next Generation 20-tonne size class excavators from Caterpillar ? the 320 GC, 320 and 323 ? are due to be rolled out across Middle East and Africa in Q2 2018 and claim to boost efficiency by up to 45 per cent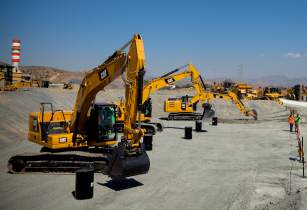 Using the system?s E-fence feature enables the machine to work safely under structures or near traffic by preventing any part of the excavator from moving outside operator-defined set points. (Image source: CAT)
Speaking at the global launch of the excavators at Caterpillar?s Malaga Demonstration and Learning Centre on 10 October 2017, Damien Giraud, vice-president, Construction and Infrastructure Industries, said the 20-tonne class excavators were set to "transform the excavator industry worldwide" and keep Caterpillar at the number one spot in the industry.
The new Cat 320 raises the bar for efficiency with integrated Cat Connect Technology, advancing productivity and lowering fuel and maintenance costs for medium- to heavy-duty applications.
Similarly, delivering high production performance, the new Cat 323 boasts standard integrated Cat Connect Technology and the most power and lift capacity in the line. These features combine with lower fuel consumption and reduced maintenance costs to deliver maximum productivity at the lowest cost.
The new Cat 320 GC, designed for low- to medium-duty applications, combines the right balance of productivity features with reduced fuel consumption and maintenance costs. The result is high reliability and low cost-per-hour performance.
The key features of the new series include:
* Up to 45 per cent in operating efficiency in the new Cat 320 and 323 ? the Cat Grade with 2D system helps operators reach desired grade quickly and accurately. Using the system?s E-fence feature enables the machine to work safely under structures or near traffic by preventing any part of the excavator from moving outside operator-defined set points. The standard 2D system can be upgraded to Cat Grade with Advanced 2D or Cat Grade with 3D.
Cat Payload on-board weighing, integrated on the Cat 320 and 323 at the factory, delivers precise load targets and increased loading efficiency with on-the-go weighing and real-time payload estimates without swinging to prevent truck over/under-loading.
* Up to 25 per cent reduction in fuel consumption ? new smart mode operation automatically matches engine and hydraulic power to digging conditions, optimizing both fuel consumption and performance. Engine speed is automatically lowered when there is no hydraulic demand to further reduce fuel usage. More efficient than single-fan systems, the new cooling system employs multiple electric fans, which independently monitor hydraulic oil, radiator and air-to-air aftercooler temperatures to deliver the exact airflow required.
* Up to 15 per cent reduction in maintenance costs ? featuring higher dirt capacity, the new Cat hydraulic return filter boasts a 3,000-hour service life, a 50 per cent increase over previous filters and a new Cat air filter with integrated pre-cleaner and primary and secondary filters extends service life to 1,000 hours.
Other innovative features include a keyless start push-button and large standard 203-mm touchscreen monitor with jog dial keys for control and sound-suppressed rollover protective structures (ROPS) to offer the next level of operator comfort, safety and quiet operation. The new spacious cab features a low-profile design and large front, rear and side windows to enhance visibility to the front and side of the excavator. Optional 360-degree visibility combines images from multiple machine-mounted cameras to enhance the operator?s sight-lines in all directions.