Bobcat's services were hired by Spanish waste management company Santos Jorge, which has two facilities in Spain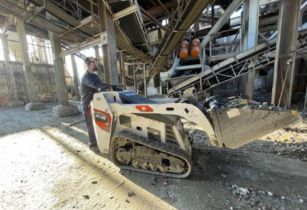 The MT55 has a nominal load capacity of 254 kg. (Image source: Bobcat)
These two factories are in the towns of Mollet del Valles (Barcelona) and Montblanc (Tarragona), where domestic glass and industrial glass are treated and recycled. Santos Jorge recycles around 100,000 tonnes of glass per year, and the company recently added a Bobcat MT55 mini track loader to its machinery fleet.
Jorge said that the loader, due to its compact size, is ideal for working in very confined spaces. In the MT55, operators highlight above all its lightness, easy use, the compactness, manoeuvrability, its very good breakout force for a machine of this size, as well as its nominal load capacity of 254 kg.
Prior to the purchase of the MT55, Bobcat Of, the official Bobcat distributor, carried out a demonstration for Santos Jorge, showing the most suitable solution for their business. Improvement has been evident, with less labour for the same results and with greater efficiency and speed. Currently, the Bobcat loader is performing maintenance on all the low and narrow corners of the recycling plant, performing maintenance on about 600 m2 of operating space.
Antonio Hernandez, purchasing and logistics manager at Santos Jorge, said "We needed to clean all the way to the corners under the belts that transport the glass and for this a super compact machine was essential, since we are talking about areas that are not too wide, with columns, and where a normal loader cannot access due to its size.
"Since we have been working with this Bobcat mini track loader, we no longer have to clean by hand with a shovel and brush, which has resulted in a comfortable, faster, more efficient and safer way of operating, and this also allows us to more easily keep cleaning and maintenance up-to-date, without accumulating glass debris.
"With the bucket on the loader we also load the glass waste into containers and with a custom-made stacker, we clean corners that it is impossible to reach with any other machine as the cabs would get in the way.
"Basically this is the only model that allows us to access certain spaces in our facilities. And another noticeable advantage is that it is very easy to work with it."
Antonio Hernandez added, "Whenever we have had a need, Bobcat has provided us with a good proposal, which is why we trust their team. They provide us with a good service both in advising us in the face of problems, and through their technical service.
"We also have a Bobcat S450 loader that has been in service for a few years now, equipped with a sweeper attachment, for other maintenance work in larger areas, with which we are also very satisfied."
Bobcat skid-steer loaders are characterised by their small dimensions and great agility, combined with their amazing traction and lifting capacities - they overcome the difficulties of manoeuvring in confined spaces with ease and speed.
Bobcat has recently launched the company's latest mini track loader, the MT100, with a rated capacity of 460 kg, a tipping load of 1314 kg, a powerful breakout force and a lifting height of 2057 mm. Its ISO joystick controls are ergonomically designed and offer very tight precision, for more comfortable control of the machine.