Cat has released a new version of its water solutions truck, which can help reduce haul road dust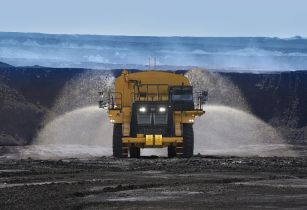 The new 777 (05) is built on the Cat 777E truck platform. (Image source: Cat)
Called the 777 (05), the machine can solve overwatering and underwatering issues. It is built on the Cat 777E truck platform, proven at mine, quarry and construction sites globally. Its design integrates the truck, tank, and water delivery system, connected with technology.
Cat Water Delivery System

With Cat WDS, the new water truck has a self-contained hydraulic system that regulates spray patterns independently of engine RPM for reliable watering. In order to minimise overwatering and consequent poor traction at road crossings, variable water flow, dependent on the vehicle's speed, automatically starts and stops when the truck slows down or comes to a stop.
To avoid causing harm to the system, the pump has mild starts and switches off automatically when the tank is empty.
The truck's design has ergonomic, factory-installed water controls for simple system operation. The operator can maintain concentration on driving and site traffic thanks to the inventive automatic water supply mechanism, which improves safety. The water tank is filled remotely and has an auto shut-off to avoid overfilling, allowing the operator to stay inside the vehicle to prevent any slips and falls.
Scalable technology with Cat MineStar Edge

Flexible cloud-based service levels site managers may monitor the water truck to determine where and when it is spraying water by integrating MineStar Edge technology with the Cat WDS to capture and send machine data.
Productivity, water use, fuel and water tank levels, when and where to apply water, geofencing, asset location, and remote control of water distribution are all examples of asset management possibilities.
Edge Equipment Tracking enables basic connection without interfering with current fleet management systems while offering tracking capabilities without the requirement for infrastructure investment.
The Cat dealer and parts network offers complete support for this integrated system with Cat-branded tank choices. The water truck, comprising the tank and its components, is covered by the Caterpillar factory standard warranty and is also eligible for customer value agreements (CVAs) and Cat equipment protection plans (EPPs).
The integrated system may be installed by Cat dealers, and in the future, conversion kits for the field's current Cat 777E truck platforms will be made available.