Construction and agricultural equipment manufacturer Case Construction has introduced the new backhoe loader model 570T for Middle East and Africa markets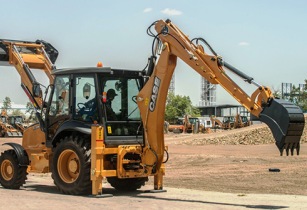 Case Construction's latest backhoe loader is specifically designed for users in the MENA region. (Image source: Case CE)
The unit features a FPT Industrial S8000 engine, an S-styled boom, and a heavy-duty front axle, which is also available in 4WD. According to Case Construction's designers, this entry-level backhoe loader has been designed to appeal to customers in the MENA region and has been equipped with an air-to-air after-cooler system that optimises air induction to increase fuel efficiency. Its four-cylinder engines are turbocharged, making them capable of delivering up to 86 hp and 402 Nm of torque at 1,300 rpm.
The backhoe loader?s S-shaped boom has been designed to enhance digging and lifting, added company officials. Its thick, multi-plate fabrications, castings, and forgings placed around the most stressed points ensure strength and durability as well.
The machine?s front axle has been designed to handle heavy-duty applications with a double-effect steering cylinder mounted above the centre pivot in a protected area behind the beam. With an oscillation of up to 13 degrees, the 570T?s tight steering angle facilitates stability on rough terrains. Meanwhile, the 4WD option when combined with the 100 per cent locking differential fitted to the rear axle, serves to further increase traction.
Case stated that the machine was built to offer increased serviceability to customers in the MENA region. Its tilting hood provides easy access to the machine?s main service points and the battery is positioned to offer easy reach and quick replacement ? maximising uptime and productivity for the region?s end users.