Through a new Saudi Arabian subsidiary, Castolin Eutectic will expand its presence in the country?s growing OilTec business and cater to the drilling demands put forth by local oil manufacturers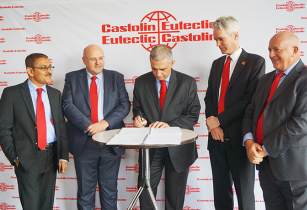 Officials from Castolin Eutectic and TACO sign the joint venture agreement. (Image source: Castolin Eutectic)
Swiss-based Castolin Eutectic has opened a new subsidiary in Saudi Arabia via a joint venture (JV) agreement with its long-term distributor Tarek Nasser Al Akeel Company Ltd (TACO).
The new company will focus on the growth of Castolin Eutectic?s OilTec business in Saudi Arabia and work with local oil manufacturers to get their immediate drilling demands catered to, within Saudi Arabia. The Castolin Eutectic-TACO JV will offer wear protection and repair of bottom hole assembly tools (BHA); similar to the Castolin Eutectic Services facility in Dubai.
The JV agreement was signed during the Castolin European Sales Congress in Frankfurt, Germany. Castolin Eutectic, a worldwide leader in application solutions for maintenance, repair and wear protection, had earlier collaborated with TACO on product sales, on-site welding repairs, vertical roller mill refurbishment and the CDP wearplates business.
According to the Swiss company, Saudi Arabia will offer good growth opportunities, as it is a high-income nation with a 30mn-strong population. Being a petroleum-based economy and a major oil producer, it augurs well with the new venture?s goals, it added.
In addition, Castolin Eutectic also revealed that it would likely expand its reach in sectors such as cement, steel and mining, as well as enhance its existing presence in the CDP wearplates prepared parts and services business in Saudi Arabia.