Volvo Construction Equipment has unveiled a new series of wheel loaders tailored to the Middle East market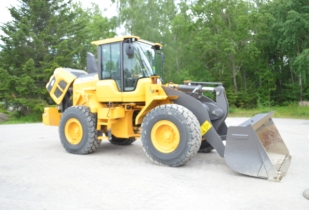 Volvo says the G Series is designed for bucket operations in small quarries and cement factories.
The G Series, which consists of three machines ? the L120GZ, L60GZ, and L90GZ ? will be launched across the region, as well as in Africa and Russia.
Volvo said the range has been designed specifically for use in the emerging markets, being of a generally lower-spec than other models, with production due to begin at the end of this month and the first finished products scheduled for shipment in late July 2015.
The G Series combines a number of key features, such as eco pedal, ground access for easy maintenance, increased hydraulic pressure and the use of Z-bar linkage, with the same transmission, engine and axels used in Volvo?s other wheel loaders, like the F Series.
?The benefits are that you have the same comfort as the F Series, no difference,? explained Volvo CE?s GPPE product manager Masood Akar. ?But by increasing the hydraulic pressure and the design of the Z-bar, we have actually increased the break-out force, so the operator will feel like he can fill the bucket much faster.
?Also, the machine still has the same transmission, and also the eco pedal, which means that most operators will operate in economical mode, and that is a very big benefit for the customers.?
Volvo said the G Series is ideal for use in cement factories and small quarries, mainly for application in the re-handling of bucket.