Heavy machinery manufacturer CAT has launched a new hydraulic excavator CAT 326D2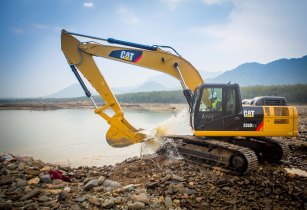 The new excavator has a common rail fuel injection system for high engine reliability. (Image source: CAT)
The device has a maximum operating weight of 26,345kg and uses the C7.1 engine rated 140kW. It has cross-sensing hydraulics for greater efficiency, robust major structures for long-term durability, ergonomic cab for increased productivity and simplified routine maintenance for reduced operating costs, according to CAT.
The Cat C7.1 engine features a robust common-rail fuel-injection system protected by a three-stage filtration system for optimum reliability, and an electric fuel-priming pump simplifies filter changes. Fuel saving features includes automatic engine speed control that reduces rpm during no-load/light-load conditions and an ECO Mode that tailors the machine for fuel economy. The ?High Horsepower Mode? delivers maximum power for demanding tasks.
Depending on the region, the excavator is available with a standard undercarriage, designated CAT 326D2, or a long undercarriage, designated CAT 326D2 L. The X-shaped, box-section car body provides resistance to stress as it transfers working forces from the rugged upper mainframe to the high-strength track-roller frames. Structural welds are 95 per cent robotic, achieving three times the penetration of manual welds. Both standard and long undercarriages feature heavy-duty components, with sealed-and-lubricated track rollers and grease-lubricated/sealed track chains.
In addition, the standard 5.9 metre reach boom and heavy-duty 5.9 metre reach boom have two stick options to tailor the front linkage to the task, and a mass-excavation 5.3-metre boom with its mass 2.5-metre stick deliver superior digging forces and permit the use of a larger bucket. A Super Long Reach front linkage features a 10.2 metre boom and 7.85 metre stick. All booms and sticks use box-section construction with high-tensile-strength steel to provide optimum digging for a range of excavating applications.
CAT buckets and ground-engaging tools for the 326D2 are designed to optimise production and reduce fuel consumption. Buckets include general-duty for low-impact, moderately abrasive materials, heavy-duty for mixed materials and cohesive soils, severe-duty for highly abrasive materials, and extreme-duty for exceptionally abrasive conditions. Work tools include shears, grapples, hammers and compactors.
An ergonomically-designed cab features low-effort joysticks, large glass areas to enhance all-around visibility, automatic bi-level air conditioner with defroster, and a full-color LCD monitor that is 40 per cent larger compared to the previous monitor, has enhanced resolution and serves as the display for an available rearview camera system.
To enhance serviceability, filter and fluid change intervals are displayed on the main menu of the monitor, and most routine service points are located at ground level ?including access for cleaning to the radiator, oil cooler and charge-air cooler.