Caterpillar has introduced the 834K, a new wheel dozer which builds on the strengths of its predecessors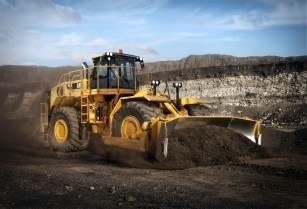 The Cat 834K wheel dozer. (Image source: Caterpillar)
Features of the 834K include engine choices that can be tailored for use worldwide, a completely new cab, drive-train refinement, new monitoring and diagnostic features, new safety features and structural enhancements.
Available blade types include straight, universal, semi-universal and coal, ranging in capacity from 7.9 to 22.2 cubic metres (cu m).
Rated at 370 kW, the Cat C18 engine used in the 834K is available in three configurations: Tier 4-Final (Stage IV), using a diesel particulate filter and a selective-catalytic-reduction system to control emissions; Tier 3 equivalent without after-treatment; and Tier 2 equivalent without after-treatment.
According to Caterpillar, fuel-saving enhancements for the 834K include engine-idle-shutdown and engine-idle kick-down systems, and the delayed-engine-shutdown system protects the engine from hot shut-downs. An on-demand, hydraulically driven cooling fan reduces horsepower draw for increased efficiency, it added.
The Cat 4F/3R planetary power-shift transmission used in the 834K has a new Advance Productivity Electronic Control Shifting system, which is designed to provide greater machine momentum through shift points, enhancing performance and saving fuel, Caterpillar said.
Forced-flow oil also lubricates and cools the transmission?s high-torque clutches to ensure long component life, it said.
For increased productivity and precise control, the 834K?s impeller clutch torque converter (ICTC) allows the operator to adjust rimpull from 100 to 25 per cent in order to match hydraulic effort and rimpull to the operating situation, according to Caterpillar.
The 834K?s axles feature shaft-mounted, oil-cooled, multiple-disc brakes and the braking system can be equipped with auxiliary oil coolers for added protection, the company said.
The redesigned operator?s station meanwhile features automatic temperature control, a new touch-screen display with soft keypad, electro/hydraulic parking brake, and the Cat Comfort III seat with air-ride suspension and integral controls - including the Steering Transmission Integrated Control (STIC). Also featured is the Vital Information Management System (VIMS 3G).
Reflecting the solid design of its predecessors, the 834K retains the full-box-section rear frame that resists torsional shock and twisting forces, Caterpillar said.
A new addition to the wheel dozer is a redesigned rear-axle trunnion, now wider and bolted directly to the frame rails, eliminating the previously used intermediate casting and allowing loads to be more effectively dispersed, while the lower articulation point (lower hitch) has been strengthened, the company said.
According to Caterpillar, a major design focus of the 834K is operator safety, and to that end, the new model features a standard rear view camera, repositioned access ladders, full-perimeter railings and a ground-level panel which houses a stairway light switch, engine-shut-down switch and lockouts for the starter and transmission. Available for the 834K is the Cat Detect system, which supplements the rear view camera with radar sensors on the rear of the machine to provide both audible and visual indicators of objects in its working space.
The machine?s routine service points are accessible from ground level or from large, skid-resistant platforms. Swing-out doors on both sides of the engine give ready access to daily maintenance items, and ecology fluid drains facilitate service and protect the environment, Caterpillar claimed.
For added convenience, the Electronic Technician diagnostic port and the VIMS service port are located in the cab?s right console, the company added.