CAT?s new CB2.5, CB2.7, CB2.9, and CC2.6 compactors utilise a weight based nomenclature that signifies its standard operating weight in metric tonnes, making it easy for customers to choose the machine that best fits their needs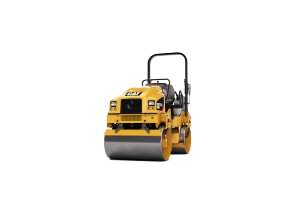 These new utility compactors are equipped with fuses and relays that enable service personnel to quickly troubleshoot root causes without utilising specialised equipment. (Image source: CAT)
These new models provide excellent versatility in the 2.5 metric tonnes to 2.9 metric tonnes size class. Typical applications include streets, bike paths, courtyards, patchwork, parking lots, driveways, town centres and shoulder work.
Easy to Operate
Simple operating features include toggle-type switches for quick and easy activation of machine functions. The straightforward analog display provides fuel level, engine temperature, and machine hours for quick reference. Effortless starting is achieved through its unique glow-plug technology that makes starting easier.
Simple to Transport
Moving to a new job site has never been easier. The single point lifting option and durable hitch design make hoisting the machine onto transport vehicles quick and easy. The foldable ROPS option provides a short transport height and enables the machine to move under and around low structures when performing compaction procedures.
Quick to Service
Simple diagnostics and accessible service checks are keys to optimising machine production. These new utility compactors are equipped with fuses and relays that enable service personnel to quickly troubleshoot root causes without utilising the specialised equipment. Visual indicators for airflow, fuel/water separator, cooling, hydraulic, and water spray systems help optimise routine service checks and keep machines working.
Closely Monitor
These new models are designed to easily fit in the rental fleet. Product Link? capability enables close monitoring to keep owners informed of machine location and service needs. The simple control panel and spacious platform offer comfort to suit a variety of operators. Durable components and the fuel-efficient engine maximise uptime and lower lifetime operating costs.
Effective Power
These new utility compactors are equipped with a C1.5 engine that meets emissions equivalent to USA EPA Tier 4 Interim, EU Stage IIIA, and China Stage III emission standards. EU Stage IIIB emissions standards do not apply to this power ratings class. It delivers 22.3kW (30.3 hp) of power and performs effectively in the toughest conditions.